Gigaphoton Inc., a developer of excimer lasers and extreme ultra-violet (EUV) light sources used for lithography tools, says it has achieved continuous operation of 140W EUV light source at 50 percent duty cycle on its prototype laser-produced plasma (LPP) light sources for EUV lithography scanners.
Although EUV litho scanner developer ASML Holding NV (Veldhoven, The Netherlands) is aiming for 250W of brightness at the intermediate focus of its scanner 140W is widely seen as a threshold of viability for commercial production volumes. A 140W source is roughly equivalent to 100 wafers per hour throughput and more than 1000 wafers per day.
Gigaphoton (Oyama-shi, Japan) uses a laser-produced plasma (LPP) as the means of generating 13.5nm wavelength light. It illuminates a molten tin droplet with a pulsed carbon dioxide laser. The high brightness was the result of droplet generators capable of producing tin droplets smaller than 20-micron in diameter, the single-wavelength, solid-state pre-pulse laser and main pulse CO2 laser, and the debris mitigation technology using superconducting magnets and tin etching.
The achievement of 140W continuous operation output at 50 percent duty cycle shows the industry is close to realizing mass production-capable EUV scanners, Gigaphoton said adding that it aims to achieve 250W output by the end of 2015.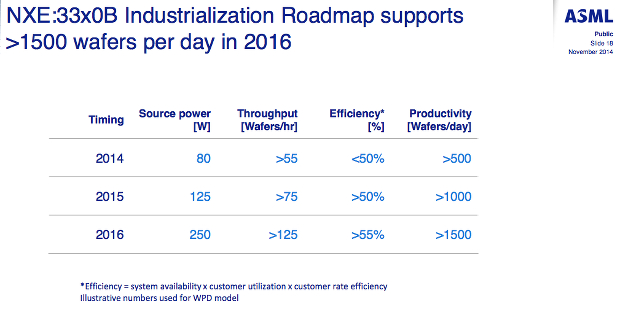 Gigaphoton is meeting ASML's timetable for increasing source brightness. Source ASML
"The achievement of continuous operation, 140W output at 50 percent duty cycle, with our EUV light source proves we are very close to achieving high power, low cost, and stable LPP light sources required by our customers," said Hitoshi Tomaru, CEO of Gigaphoton, in a statement. "I believe that Gigaphoton's expertise and efforts to develop the LPP light source will accelerate the development of EUV scanners for high-volume manufacturing. This achievement also serves to further encourage the industry to introduce EUV scanners as the next-generation lithography tools."
Further details of the high brightness source are due to be presented at the SPIE Advanced Lithography Symposium held at the San Jose Convention Center from February 23 through 26, 2015.
It is notable that ASML, the leading lithography equipment company, completed the acquisition of light source developer Cymer Inc. in May 2013
Questions or comments on this story? Contact peter.clarke@ihs.com
Related links and articles:
IHS semiconductor manufacturing research
News articles:
ASML Touts EUV Lithography Progress
ASML Cuts Q2 Outlook on Logic Weakness
450mm Wafer Consortium Appoints TSMC Exec as Leader
Report: Toshiba Eyes Imprint Litho for 15-nm Flash