Semiconductor manufacturing equipment maker ASML Holding NV (Veldhoven, The Netherlands) has announced that leading foundry Taiwan Semiconductor Manufacturing Co. Ltd. (Hsinchu, Taiwan) has ordered two NXE:3350B extreme ultra violet (EUV) lithography machines for delivery in 2015 and intended for use in production.
In addition, two NXE:3300B lithography machines already supplied to TSMC will be upgraded to NXE:3350B performance, ASML said. This gives the indication that TSMC is looking for EUV lithography insertion at the 10nm node some time in 2016.
The new NXE:3350B machines are reported to cost €70 million (about US$90 million) although whether TSMC will pay that price or obtain discounts as first user is likely to remain confidential. Intel, Samsung and TSMC have all participated in a co-investment program with ASML that provided ASML with considerable funds to try and accelerate the development of EUV technology.
EUV lithography has been coming for more than a decade and has failed to mature in time for numerous nodes, but it has received billions of dollars of investment and remained the most likely technology to take over from 193nm wavelength deep ultraviolet lithography.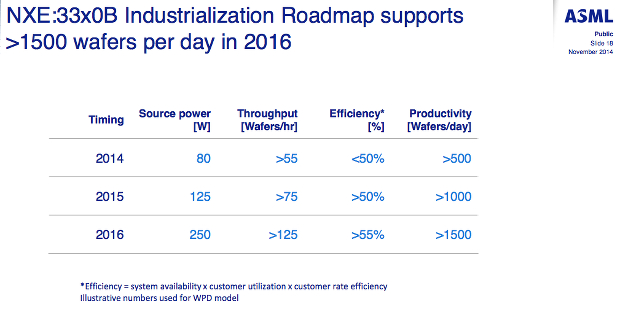 How rising source power can EUV to practical production by 2016. Source: ASML.
The announcement of TSMC's order was made at a one-day conference for investors held in London, Nov. 24 at which Frans van Hout, ASML's chief program officer, showed slides summarizing various aspects of EUV lithography progress which indicated that capabilities were either ready to support 10nm or were on a improvement curve that would get them there by 2016.
Van Hout's slides acknowledge that optical power – the brightness of the source – continues to be the major hurdle for EUV lithography to overcome. The source brightness translates into the time wafers must spend on the machine and throughput and therefore cost of production. IC manufacturers have traditionally looked to move in excess of 100 wafers per hour through a lithography scanner.
Van Hout said that 40W source has been demonstrated for continuous operation for more than two months and that 80W operation was good for 24 hours and that 100W has been demonsrated for a 60-minute run. An optical source power of 80W is equivalent to about 55 wafers per hour or 500 wafers per day.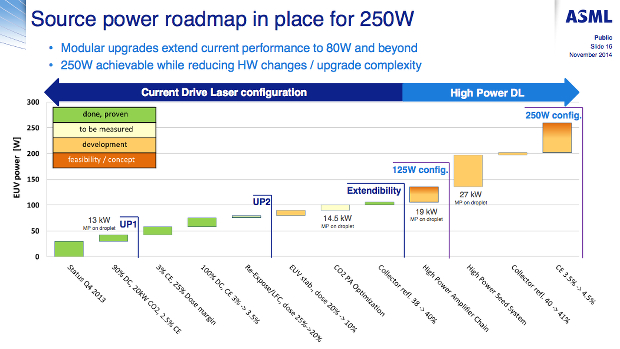 Source power roadmap in more detail. Source: ASML.
Van Hout said that EUV lithography throughput of better than 500 wafers per day had been demonstrated at two customer sites and that continuous operations and that the industrialization roadmap for the NXE:33x0B family of systems supports achieving more than 1500 wafers per day throughput in 2016.
On other aspects of EUV lithography the executive indicated that the performance of the optics meets both 10nm and 7nm requirements and that all aspects of mask making, handling, inspection and repair are good for 10nm although some improvements are required for 7nm and 5nm nodes. Similarly photoresist is " at an acceptable performance level for the 10nm chip generation," according to ASML.
Van Hout's conclusion was that DUV immersion lithography would be used for multiple layers in all the foreseeable nodes because layers higher up in the back-end of line have less aggressive minimum dimensions and the equipment is lower cost. However, EUV lithography will be used for critical layers in logic, NAND flash and DRAM chip production from 2016/2017.
As a result of the progress with EUV ASML told investors it expects to be shipping 50 to 60 EUV lithography systems per year by 2020.
Related links and articles:
IHS semiconductor manufacturing research
News articles:
SMIC to Spend $570 Million on ASML Tools
ASML Touts EUV Lithography Progress
450mm Wafer Consortium Appoints TSMC Exec as Leader
Report: Toshiba Eyes Imprint Litho for 15-nm Flash