When ASML Holding NV announced late last year that it had received orders from Taiwan Semiconductor Manufacturing Company Ltd. for two NXE:3350B extreme-ultraviolet (EUV) lithography systems to be used in chip production, there were murmurs all over the semiconductor industry: Does this development mean that the EUV era in chip making is finally at hand?
ASML also announced that two NXE:3300B EUV lithography systems previously delivered to TSMC would be upgraded to NXE:3350B capabilities, presumably also to be used in production manufacturing.
The customer's identity wasn't a surprise. The world's largest silicon foundry made an equity investment in ASML in 2012, putting 838 million euros (then worth $1.03 billion) into the supplier of semiconductor production equipment. TSMC also committed to spending 276 million euros (about $339 million at the time) over five years for supporting research and development of next-generation lithography technologies at ASML.
ASML and TSMC announced at the SPIE Advanced Lithography Symposium in San Jose, Calif., Tuesday (Feb. 24) that TSMC has successfully exposed more than 1,000 wafers on an NXE:3300B EUV system in one day, a key throughput milestone and another piece of evidence that EUV in production is moving closer to reality. (Previously, last November, ASML had said EUV systems at two customer sites were capable of producing more than 500 wafers per day in endurance tests).
More Systems On the Way?
TSMC's production EUV order and milestone throughput announcement beg the obvious question: Are there more EUV system orders in the hopper? ASML President and CEO Peter Wennink said in a video posted when the company released its 2014 financial results that ASML expects to ship about six EUV systems during 2015. Wennink did not name any customers.
Intel Corp. and Samsung Electronics Co. Ltd. have also made substantial financial commitments to ASML for EUV R&D. Presumably, these firms will also be placing orders for EUV production systems in the near future.
Rudy Peeters, ASML's director of product management for EUV, said recently that those four lithography systems at TSMC will be used in manufacturing of chips with 10-nanometer features.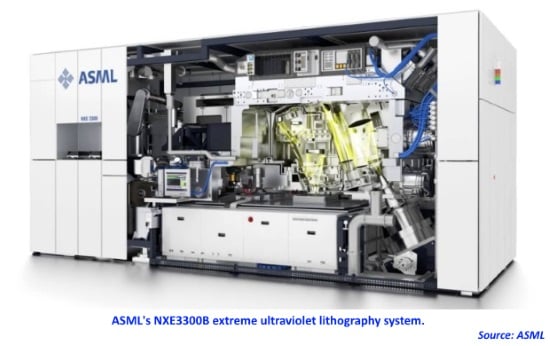 After years of false starts and push outs, it appears the EUV era is close at hand, with volume production of chips expected next year. At its investor day conference in London in late November, ASML announced that its EUV systems would enable production of logic chips, DRAMs and NAND flash memory devices during the 2016-17 time frame.
Skepticism Remains
Many in the semiconductor industry may be extremely skeptical about that promise, given the long history of delays in developing EUV technology. Back in the 1990s, EUV was expected to be available for the 65-nanometer process node, in the 2005-06 time frame.
Meanwhile, the industry made the transition from 248nm steppers to 193nm lithography systems and then to immersion lithography technology, which has carried chipmakers to the present era of double patterning and triple patterning to bridge the 32nm, 28nm, 20-22nm, and 14-16nm process nodes.
Peeters said in an interview that ASML has been able to push its EUV light source to 100 watts, operating for one hour. The company will be "upgrading from there," he added, with the goal of achieving "stable performance" with the light source.
Frits van Hout, ASML's executive vice president and chief program officer, said at November's investor conference that the company's EUV equipment has been able to achieve "continuous stable source operation" at 80 watts for 24 hours. He presented a roadmap of getting the light source to 100, 125, and 250 watts—production-worthy levels of power for semiconductor manufacturing.
Ryan Young, an ASML spokesman in the U.S., said recently that the company is looking "beyond raw wattage." He added, "It's more than a watt issue; it's a productivity issue."
'Availability of the Total System'
Peeters also emphasized the productivity theme, saying "availability of the total system" is what counts in advancing EUV lithography. The system requires "very good and consistent performance," he said. ASML has worked closely with Carl Zeiss AG and other suppliers in making multiple improvements of its EUV lithography systems, according to Peeters.
Getting down to making chips with 7-nanometer dimensions will be "quite an achievement," Peeters said.
As always, time will tell whether the EUV story ends well, or in disappointment. Some remain skeptical that EUV will ever be successfully used in production. Others are hoping that the technology meets its long-awaited potential.
Questions or comments on this story? Contact dylan.mcgrath@globalspec.com
Related links:
IHS Semiconductor Manufacturing
News articles: