The global chip market is on track to reach its highest level of revenue growth since 2010 coming in at $353.2 billion this year, up from $322.8 billion in 2013, according to research from IHS Technology.
This revenue level will push the expansion of the semiconductor market to 9.4 percent up from last year on the back of growth across multiple chip segments. This follows a growth in the chip market of 6.4 percent in 2013. In 2012 the market shrank by 2.0 percent in 2012 after a marginal increase of 1.0 percent from 2011, IHS said. The growth in 2014 will also be the highest rate of annual growth in the sector since the exceptional recovery year of 2010, when it rose 33 percent.
The semiconductor industry is very healthy "not only in light of the overall growth, but also because of the broad-based nature of the market expansion," said Dale Ford, vice president and chief analyst at IHS Technology, in a statement. He added that unlike the growth in 2013, where memory was the main driving force, "the rise in 2014 is built on a widespread increase in demand for a variety of different types of chips."
According to IHS, of the 28 sub-segments of the semiconductor market tracked, 22 are expected to expand in 2014. This is in contrast to just 12 sub-segments growing last year when DRAM and data flash memory alone grew by more than 30 percent while the rest of the chip market expanded by only 1.5 percent.
In 2014, DRAM and data flash are also doing well – growing by about 20 percent – but the rest of the market is set to grow by 6.7 percent, contributing to the 9.4 percent overall growth. As a result, IHS forecasts 70 percent of chipmakers to enjoy revenue growth this year, up from 53 percent of companies in 2013.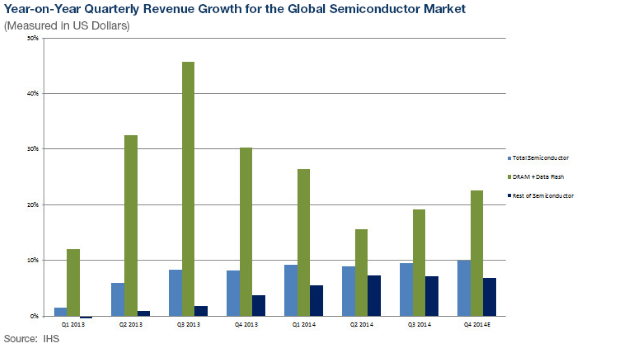 Figure 1: IHS figure on the growth of DRAM and data flash compared to the rest of the semiconductor market in 2013 and 2014.
Big growth
While many sub-segments of the chip industry are growing, two market segments are the strongest: DRAM and light emitting diodes (LEDs). DRAM will climb 33 percent this year, the same as 2013, while the LED market is expected to grow by more than 11 percent in 2014, IHS said.
But other markets are seeing a big turnaround this year including analog, discretes and microprocessors that will go from a decline in revenue in 2013 to strong growth of more than double digits in most circumstances, IHS forecasts. Programmable logic device (PLD) and digital signal processor (DSP) makers will also see increased growth in their markets this year.
Chip rankings
Among the Top 20 chipmakers, MediaTek and Avago Technologies attained the largest revenue growth and rise in rankings in 2014. Both companies achieved this growth as a result of acquisitions, as shown in Figure 2.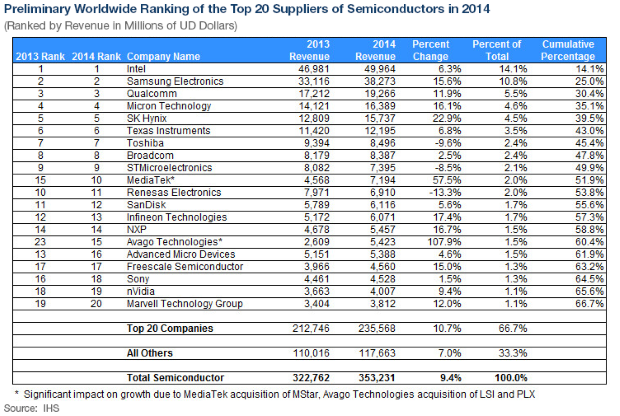 Figure 2: IHS projected semiconductor company rankings for 2014
MediaTek jump to the 10th position among vendors up five places from last year and the first semiconductor company to break into the top 10. Meanwhile, Avago is projected to jump to 15 rising eight positions in 2014, according to the IHS Competitive Landscaping Tool.
Other strong performances come from SK Hynix, with projected growth of nearly 23 percent and Infineon with 17.4 percent growth.
Related links:
IHS Semiconductors & Components
News articles:
8-bit Microprocessor Opens Path to Organic IoT
Infineon, UMC Extend Foundry Deal to Automotive Power
Qualcomm Invests $40M in Chinese Startups
Fujitsu Targets Industrial Market with FRAM Chip