Researchers in Europe have realized a largely-organic general-purpose 8-bit microprocessor using complementary thin-film transistors processed at temperatures below 250 degrees and therefore compatible with plastic foil substrates.
The researchers, from Holst Center (Eindhoven, The Netherlands), IMEC (Leuven, Belgium) and materials company Evonik Industries AG (Essen, Germany) have published details of their organic processor in Scientific Reports, an open access journal published by Nature. The processor operates from 6.5V supply and has a maximum clock frequency of 2.1kHz which equates to 2.1 kilo-instructions per second. It was programmed to run an exponential averaging program.
A paper on the same circuit was also published at ISSCC in February 2014 and the circuit is a development of an 8-bit organic microprocessor that could operate at 40 instructions per second reported the IEEE Journal of Solid-State Circuits in 2012.
The processor comes with a write-once read-many (WORM) instruction generation unit that is programmed after manufacturing using inket printing. The simple and low performance processor has been developed with the idea that everyday object could be made intelligent by way of stick-on labels.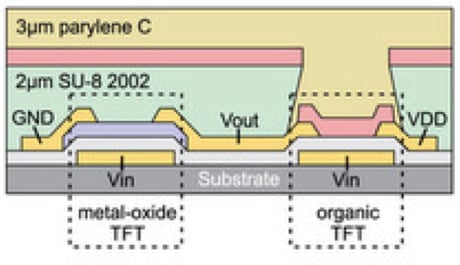 Cross-section of hybird CMOS process. Source: Myny et al. Science Reports
The technology makes use of organic molecules for p-type thin film transistors and a metal-oxide transistors – possibly indium gallium zinc-oxide (IGZO) or a mix of amorphous metal oxide materials – which is the iXsenic material from Evonik. The microprocessor instruction sequence is implemented by inkjet printing silver paste droplets on the foil.
The microprocessor consists of two separate chips: a processor core chip and a general-purpose instruction generator, known as the print programmable read only memory (P2ROM). The n-type transistors are 250°C solution-processed metal-oxide TFTs with typical carrier mobility of 2 cm2/Vs. The p-type transistors are small molecule pentacene-related organic TFTs with mobility of up to 1 cm2/Vs. The gate dielectric is 100nm of high-k aluminum oxide deposited by atomic layer deposition.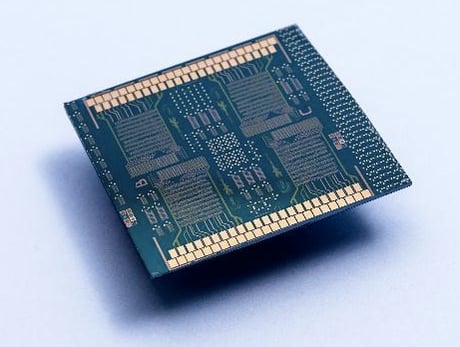 Simple, printable 8bit microprocessor. Source: IMEC
Although the performance level of 2.1kHz is extremely low there could be many applications based on sensors, near field communication, RFID, flexible displays and OLED lighting that could benefit from this performance and for which silicon chips are not necessarily optimum.
Holst said its long-running research into organic thin-film electronics is aimed at developing a robust technology platform that can help such applications be realized.
The microprocessor architecture is optimized for minimal transistor count and includes 3,504 transistors in an area of 1.20cm by 1.88cm. The WORM memory block is a 16-input unipolar NOR gate where 16 drive transistors can be added through inkjet printed jumpers and the load can be adjusted to optimize the gate's noise margin.
Related links and articles:
IHS industrial semiconductors research
News articles:
OLED Lighting Gaining Ground on Inorganic LEDs
Startup Funded to Develop Organic Semiconductor Display Materials
Researchers Develop High-Transparency Transistor for Displays, Sensors