The U.S. manufacturing industry will ride the coattails of 2014's growth straight into next year, the nation's purchasing and supply executives say. Revenue, capital expenditures and hiring are all projected to outpace 2014 levels next year, although raw materials, labor and benefit costs are expected to follow suit.
The majority—67 percent—of manufacturing executives are optimistic about their overall business prospects for the first half of 2015, according to Brad Holcomb, chair of the Institute of Supply Management's (ISM) manufacturing business survey committee. Respondents to the ISM's semi-annual manufacturing survey expect to see revenue increase by 5.6 percent in 2015, while 46 percent expect to increase their profitability.
"We are looking at a good, healthy set of manufacturing companies that are reinvesting in the business and providing more opportunities for capital expenditure," said Holcomb. "If you take a 5.6 percent increase in revenue and add that to 3.6 percent growth in 2014, you get a very strong number."
Manufacturers also have plenty of opportunity next year to increase profitability, he added. "We are seeing a revenue increase; materials costs up only 1.5 percent; and labor and benefit expenses up 3.2 percent. In proportion to manufacturers' cost of goods, there's still opportunity for margin growth."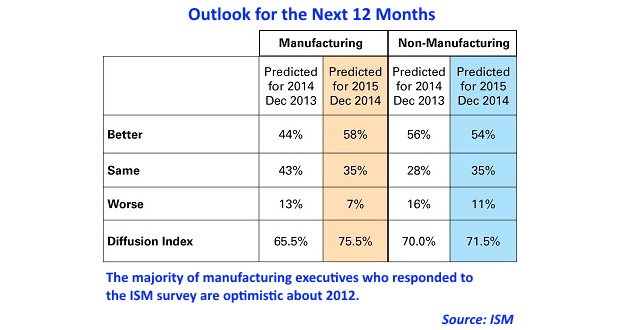 Even with this optimism, executives are remaining cautious on the hiring front. Employment is expected to increase only 1.5 percent in 2015 as economic uncertainty and a lack of skilled labor hinder would-be employers. Nearly 40 percent of manufacturers surveyed said they had unfilled job openings, while 28.8 percent say they can't find qualified applicants. Of the 18.6 percent of companies not hiring at all next year, economic uncertainty, labor costs and the use of temporary workers are cited as the leading causes.
Capital expenditures will be flowing, though, as companies open their wallets. In the middle of this year, manufacturers expected their capital expenditure outlay to be in the 10 percent range. Actual spending was up by more than 14 percent for 2014. "This indicates to me that the year has gone so well CFOs are willing to open up their purse strings," said Holcomb. "For next year—even though the opening bid is a 3.7 percent increase for 2015—capex numbers are very fluid and we could certainly see that number go up."
However, manufacturing will not be flowing back onshore in 2015. For the first time, the ISM asked companies if they planned on re-shoring significant volumes of their production next year. Only 10.4 percent of respondents said yes; 8.8 percent responded no.
For those that responded no, the reasons were:
•Cost advantage of off-shoring still too favorable (53.7 percent)
• Shortage of usable plant/asset capacity in the US (6.5 percent)
• Shortage of applicable labor in the US (1.9 percent)
• Cost of transition too high (12 percent)
• Political commitment to the host country (3.7 percent)
• Other (22.2 percent)
U.S. manufacturers are currently operating at 83.7 percent of their normal capacity, the ISM said. Production capacity increased this year by 5.3 percent; expectations for 2015 are for an increase of 5.6 percent.
Related links: