Although growth in the U.S. manufacturing sector slowed a bit in September, the overall trend remains positive for the sixteenth consecutive month, according to the Institute of Supply Management. The ISM's leading indicator, the PMI, registered 56.6 percent in September, a decrease of 2.4 percentage points from August's level of 59 percent. "At 56.6, the PMI is still a good solid growth number," said Bradley J. Holcomb, chair of the ISM's Manufacturing Business Survey Committee. Any number above 50 indicates growth, while any number under 50 indicates contraction.
The September number caps off a positive third quarter for the nation's manufacturing industry, Holcomb added. The third quarter PMI averaged 57.6 percent; that's higher than the average in the second quarter. "Each consecutive quarter since the beginning of the year shows improvement," Holcomb said. "It's a good indication that the industry's momentum is continuing."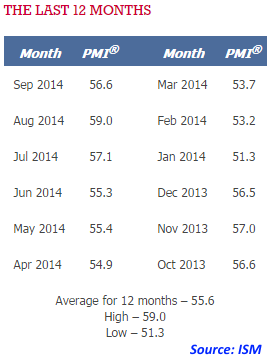 Data from the ISM's other indices was mixed. New orders registered 60 percent, a decrease of 6.7 percentage points from the 66.7 percent reading in August. Employment hit 54.6 percent, down 3.5 percent from 58.1 percent in August. Even with the decrease, new orders – at 60 percent – are still a strong number, said Holcomb. That index was coming off a decade-high level of 66.7 percent, he added.
Manufacturers' backlog and customer inventories also fell in September, by 5.5 percent and 4.5 percent, respectively. "Backlog [at 47.0] is not a huge swing and what that says, in this case, is that production is still higher than last month and manufacturers have resources and assets to work with," Holcomb said. At 44.5 percent, however, customer inventories are considered too low. A long period of ample supply has allowed customers to get the materials they need in a short time frame. "There is a propensity for customers to re-order and restock shelves," said Holcomb. "The supply chain has been able to respond to increased demand at very short intervals," he added.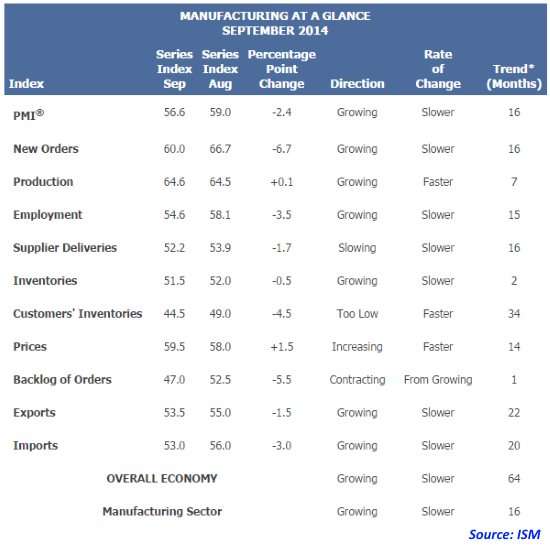 Purchasing executives continue to be optimistic about the manufacturing industry although there is some concern about geopolitical trends. The computer and electronics segment has seen an increase in sales due to the government's fiscal year-end, according to one commentator. In the case of transportation equipment, world political unrest is benefiting the industry by creating additional defense requirements. Only three manufacturing sectors – machinery; plastics & rubber products; and electrical equipment, appliances and components – contracted in September.
"Overall it's a good, balanced report," said Holcomb. "If you look at other countries – China is at a low and the EU is down—it's a positive that the U.S. continues to grow."
Related news articles:
Manufacturing Defies 'Dog Days' of August
U.S. Manufacturing: New Orders and Employment up in July
First Half of 2014 Closes Strong for Manufacturing
U.S. Manufacturing Growth Builds Momentum