There were no dog days of August for the U.S. manufacturing industry. One of the nation's leading production indexes, the Institute for Supply Management's PMI, reached its highest level since March of 2011 to 59 percent. The nearly 2-point increase from July's 57.1 percent reading reflects U.S. economic growth for the 15th consecutive month.
"[The PMI] has been building all year and to reach the highest in over 3 years is quite something," said Bradley J. Holcomb, chair of the ISM's Manufacturing Business Survey Committee. "It's indicative of the momentum we've been experiencing: strong consumer confidence and indications that the industry is getting past some of the concerns around the geopolitical hotspots around the world. I think we can continue this momentum."
Any reading above 50 percent indicates expansion; a reading below 50 percent indicates contraction.
Although computers and electronic products were at the low end of the growth spectrum for August, commentary from the industry's purchasing management was positive. "Business in the energy sector continues to remain very robust with no signs of backing off in the near future," said one respondent to the ISM monthly survey. Only one industry, textiles, did not report growth in August. "The computer segment has been under pressure for a while but it has maintained growth as a whole," said Holcomb. "The market is still undergoing a transformation to tablets and smartphones from desktop PCs, and that's a somewhat precarious position for the industry to find itself in."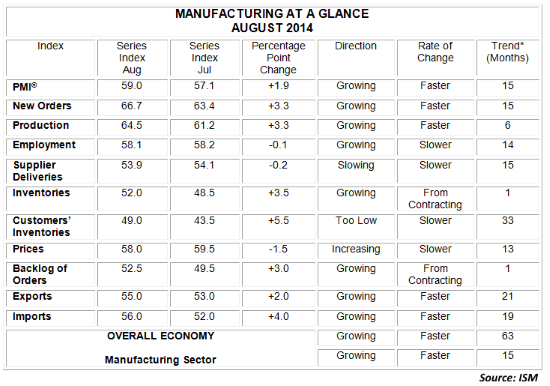 Most other indicators in August were up and to the right. The new orders index registered 66.7 percent, an increase of 3.3 percentage points from the 63.4 percent reading in July. The production index registered 64.5 percent, 3.3 percentage points above the July reading of 61.2 percent. "New orders reached their highest number in a decade," Holcomb added. "It's not just confidence; in fact, we think the production number could have been higher had factories had the materials and assets they needed."
Imports of raw materials to U.S. factories increased in August by 4 percent to 56 percent. "In general, businesses are importing due to attractive pricing from overseas," Holcomb said. "It's a continuation of the trend we've been seeing for months." Exports of finished good also grew in August by 2 percent to reach 55 percent.
The employment index grew for the 14th consecutive month, registering 58.1 percent, a slight decrease of 0.1 percentage point below the July reading of 58.2 percent. Inventories of raw materials registered 52 percent, an increase of 3.5 percentage points from the July reading of 48.5 percent, indicating growth in inventories following one month of contraction. "Businesses are working off their backlog," Holcomb said. "One of the numbers we like to look at is new orders minus inventory: there's a 14.7 percent differential, and when that's the case we tend to see new orders continue."
Prices of raw materials and some commodities increased in August but modestly, Holcomb added.
Related links:
News articles:
UMC Takes Stake in New Fujitsu Foundry
Who is the Next Takeover Target in Power Management?
MEMS Foundry Deal Could Open Larger Opportunities for UMC