Steep price cuts weren't just limited to the retail sector during the month of November. The U.S. manufacturing industry saw raw materials costs drop by 9 percentage points during the month, capping off the 18th consecutive month of growth in U.S. production.
"Manufacturing continues to fire on all cylinders with a real boost from the prices index," said Bradley Holcomb, chair of the Institute of Supply Management's (ISM) Manufacturing Business Survey Committee. Although several of the ISM's monthly indexes slipped a bit during November, the nation's supply executives continue to be optimistic as 2014 winds down.
The ISM's leading index, the PMI, registered 58.7 percent, a decrease of 0.3 percentage points from October's reading of 59 percent. The production index also declined slightly to 64.4 percent, 0.4 percentage points below October's level of 64.8 percent. Nevertheless, the numbers are good: any reading above 50 indicates the industry is growing; any number below 50 indicates contraction.
Both new orders and backlog outpaced the ISM's production index during the month, indicating demand remains strong. New orders reached 66 percent from 65.8 percent in October, and backlogs grew by 2 percent to hit 55.0. Rather than signaling a slowdown in production, Holcomb said, these trends indicate cautious optimism among manufacturers. "Manufacturers are trying to keep up production levels without hiring new people or buying new assets," Holcomb explained. "New orders are already on manufacturers' books: Factories just haven't gotten to them yet. Production may look like it's lagging [orders] even though factories are cranking away."
Backlogs are simply a reflection of a robust industry, he added: "Any time the backlog goes up – particularly in this environment – it's a positive thing," Holcomb said.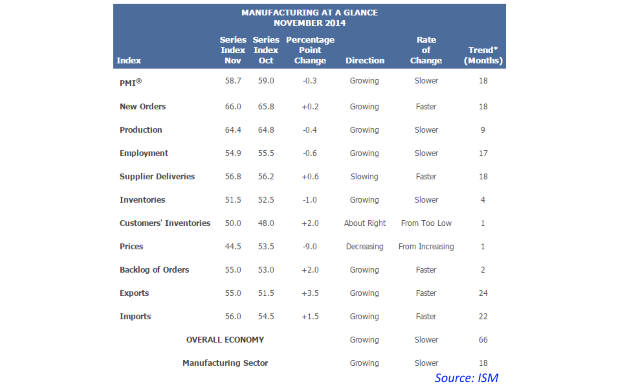 Manufacturers across the board are bullish on the remainder of 2014. Computer and electronics equipment vendors report improvement in defense spending and manufacturing. Managers in electrical equipment, appliances and components report they are hiring. "People are also leaving to take other jobs, indicating the job market is starting to improve for manufacturing," one respondent said. The only concern manufacturers have at the moment is the threat of a longshoreman's strike on the West Coast. "That's something that bears watching," said Holcomb.
U.S export numbers continue to improve: The ISM's export index for November increased by 3.5 percent to 55.0. Imports were also up during the month — growing 1.5 percent to reach 56.0 — indicating U.S. manufacturers are importing more raw materials to reach production demand. They are also taking advantage of the low prices tied to dropping costs in oil and gas. "The global market continues to support the U.S. manufacturing industry," Holcomb said. "We are well positioned for a strong ending in December."
Related links:
IHS Semiconductor Manufacturing
News articles:
U.S. Manufacturing Moves Full Speed Ahead
U.S. Manufacturing Caps Strong Q3
Manufacturing Defies 'Dog Days' of August
U.S. Manufacturing: New Orders and Employment up in July