A new company called Invecas Inc. has been created to provide exclusive design services and IP support to Globalfoundries customers designing on leading-edge processes.
The company has been created from a couple of design support companies; Kool Chip Inc. (Bangalore, India) and and SoCtronics Technologies Pvt. Ltd. (Hyderabad, India) together with a memory design team based in Vermont that previously worked for IBM.
While much of the legacy IP that comes to the operation is in planar CMOS processes at 28nm and older nodes, company executives said Invecas plans to move quickly to support the 14nm FinFET process that is common to Globalfoundries and Samsung Electronics (see Samsung, Globalfoundries Form 14nm Alliance to Fight TSMC). Invecas will therefore address multiple market segments including high-performance computing, consumer electronics and mobile communications.
The use of design support third parties to help customers to bring chip designs through the foundry manufacturing process in a timely manner is becoming common at the leading edge. Increasingly smaller fabless chip companies want to hand over a system-chip design at the block or register-transfer level (RTL) and have experienced engineers familiar with EDA tools and foundries source the IP cores and complete the design. This leaves the fabless chip company able to focus on software and system-level issues and to work with potential customers to get the chip designed in.
Taiwan Semiconductor Manufacturing Co. Ltd. (Hsinchu, Taiwan) has worked with Global Unichip Corp. (Hsinchu, Taiwan) in this manner and invested in the company in 2003 to become the largest shareholder. Similarly SmartPlay Technologies Pvt. Ltd. (Bangalore, India) has been providing services in the areas of digital, analog chip design, wireless software and system design to customers of Intel Custom Foundry for a couple of years on both 22nm and 14nm FinFET manufacturing processes (see Intel Foundry Gains Indian Chip Design Service).
With the creation of Invecas Globalfoundries will gain design service centers in both the US and India providing exclusive support for its customers.
Dasaradha Gude, chairman of Invecas, told Electronics 360 that the company would provide a variety of services from design services through analog and digital IP core development to end-to-end silicon production. This could include system design, embedded software design, SoC design an verification and physical implementation. The IP offerings include standard cells, I/Os, memories, analog, and complex interface IP solutions.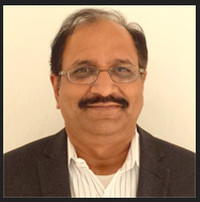 Dasaradha Gude, veteran shaker and mover in Indian electronics
Gude – known as GD – is also a co-founder of Ineda Systems Pvt. Ltd. (Hyderabad, India) , a fabless chip company developing a technology called hierarchical processing and wearable processing unit (WPU) based on it.
Gude said Invecas is starting with about 150 engineers across sites in Santa Clara, Calif., Burlington, Vermont and Hyderabad and Bangalore India but intends to get to 600 engineers in 2015. It is not clear whether Globalfoundries has invested in Invecas and thereby provided funds or will provide funding to help the company expand.
Subi Kengeri, vice president of global design solutions at Globalfoundries, said: "Basically Invecas is self funded and taking some funds from Globalfoundries. Invecas is there for our customers who will pay for its services. But there are sometimes IPs that we want to enable that can be funded."
"By combining our proven system-level expertise with a laser-like focus on Globalfoundries' advanced processes, Invecas brings unrivaled expertise to some of the most difficult issues facing designers today," said Gude, in a statement issued by Globalfoundries. "This will enable a broader range of customers to accelerate time-to-volume of designs on complex technologies like 14nm FinFETs."
Globalfoundries' ecosystem includes optical proximity correction and mask operations and assembly services as well as turnkey services that take end-to-end responsibility for their customers. These companies include E-silicon, Open-Silicon, Verisilicon. Sam George, director of design enablement at Globalfoundries, said the company values its entire ecosystem but the exclusive focus of Invecas will provide a useful addition.
Related links and articles:
IHS semiconductor value chain research
News articles:
Intel Foundry Gains Indian Chip Design Service
Samsung, Globalfoundries Form 14nm Alliance to Fight TSMC
Globalfoundries Offers 55nm Automotive IC Process