Infineon Technologies AG (Munich, Germany) and leading phone service operator Deutsche Telekom have teamed up with other German companies to develop a secure data transmission technology aimed at small and medium-sized businesses. This is the so-called Mittelstadt made up of small to medium-sized privately owned companies that have helped drive German prosperity.
The group is pursuing the idea of "Industry 4.0" a German government strategy to promote the application of the Internet and networking to improve productivity within Germany's manufacturing sector.
The security technology, based on Infineon integrated circuits, was demonstrated at an event in Hamburg Nationaler IT-Gipfel 2014, attended by Germany's Chancellor Angela Merkel and Infineon CEO Reinhard Ploss.
With Chancellor Merkel's past experience and suspicions of having her cell phone calls monitored, without her knowledge or consent by the United States' National Security Agency, the idea of secure communications totally developed in Germany strikes an obvious resonance.
Fraunhofer Secure Information Technology, Trumpf GmbH + Co. KG, Wibu-Systems and Hirschmann automation and controls contributed to the demonstration, which shows an end-to-end secure communication, in which all the critical components are developed and produced in Germany. Wibu-Systems provide a dongle for the USB interface with the intention that only authorized persons have access. The CM-Stick dongle includes a smart card chip from Infineon as a trust anchor.
The demonstration showed how security chips can be used to authenticate people, communication components and to encrypt data and showed how an employee could control production from a tablet computer with a CM-Stick and PIN or password.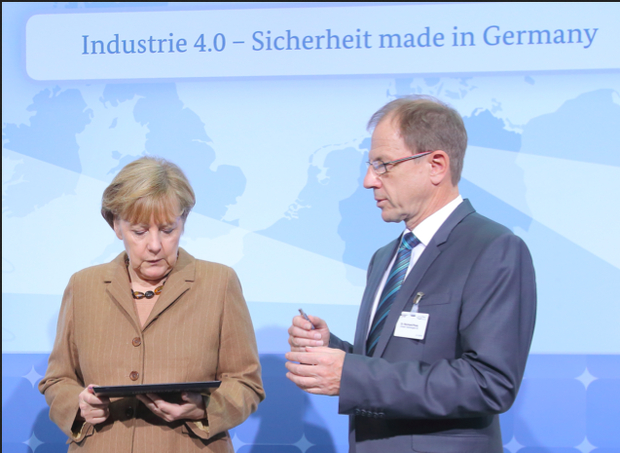 Germany's Chancellor Angela Merkel uses a tablet computer for secure communications watched by Reinhard Ploss, CEO of Infineon Technologies.
Chancellor Merkel took on the role of an employee and launched a multi-site engraving of a business card. "With 'Made in Germany' security solutions, we protect our know-how and our machines in an increasingly networked production environment," said Infineon CEO Ploss, in a statement. "Industrie 4.0 is a big opportunity for our industry if we use it in the right way. Confidence in data security is decisive for the successful implementation and the global competitiveness of German businesses," he added.
The security technology presented today is available and was developed in joint research projects of the industry partners with the support of the German Federal Department of Education and Research. Deutsche Telekom's Cyber Defense Center was part of the technology that checked the end-to-end communication.
Related links and articles:
IHS industrial communications research
News articles:
Spansion Targets Industrial IoT with MCU Expansion
Infineon to Buy International Rectifier for $3 Billion
Industrial Chip Market Set For Strong 2014