Semiconductor company Infineon Technologies AG (Munich, Germany) has said it will spend between €60 and €70 million (between about US$75 and US$90 million) in its next fiscal year to prepare a second wafer fab shell in Kulim, Malaysia, for volume production. This is despite the fact that the company has spare capacity for power semiconductors at its 300mm wafer fab in Dresden.
Infineon is in the process of acquiring power semiconductor vendor for about $3 billion but this was thought to be largely about gaining economies of scale and volume business to put through the Dresden 300mm wafer fab.
The Malaysian expansion was disclosed as Infineon announced its financial results for the fiscal fourth quarter and fiscal full year, which ended Sept. 30.
CEO Reinhard Ploss said that strength in the automotive sector was distorting the overall manufacturing strategy, which was to move to 300mm diameter wafers for manufacturing. He said that Infineon's Regensburg and Villach manufacturing facilities were at capacity and not all products were suitable for transfer to Dresden which is generally intended to provide an economic advantage against competition when making power semiconductors.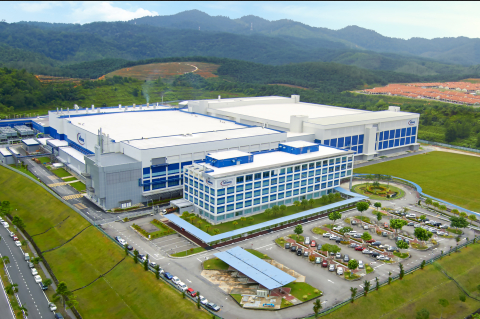 Infineon 200mm wafer fab at Kulim,.Malaysia capable of 100,000 wafer starts per month at present. Source: Infineon.
Ploss added that the shell of Kulim-2 is essentially finished which would make a relatively quick move to introduce and hook up manufacturing equipment. In addition Kulim-1 and Kulim-2 will be recognized as one factory for the purposes of automotive qualification, he said.
A robust quarter
In the fiscal fourth quarter Infineon made a net income of €181 million (about US$225 million) on sales of €1,175 million (about US$1.46 billion) in The quarterly sales were up 6 percent compared with the previous quarter and up 12 percent compared with the same quarter a year before.
However, the company indicated that revenue in the fiscal first quarter – fourth calendar quarter – would be decrease by between 5 and 9 percent. Infineon ascribed this to a "seasonal decline of demand" although industry-wide semiconductor sales typically decline by about 2 percent sequentially in the calendar fourth quarter. Infineon said revenue is expected to be lower in all four of its business units with automotive recording the smallest decrease in percentage terms.
For the full fiscal year 2015 Infineon forecast revenue growth of 8 percent plus or minus 2 percent.
Infineon has the following business units: automotive, industrial power, power management and multimarket, and chip card and security. These were responsible for 44, 19, 26 and 12 percent of sale respectively in the fiscal fourth quarter.
For the full fiscal year Infineon made a net income of €535 million (about US$667 million) on revenues of €4,320 million (about US$5.40 billion). The sales increased by 12.4 percent from €3,843 million (about US$4.80 billion) and profit almost doubled from €272 million (about US$340 million).
"Despite a challenging market environment, we plan to continue growing in the current 2015 fiscal year in addition to growth resulting from the planned acquisition of International Rectifier," said Ploss in a statement.
PCB business share acquisition
Infineon has also announced that it will acquire a 9.4 percent stake in Schweizer Electronics AG (Schramberg, Germany), a leading supplier of printed circuit boards. No information was given on the how much Infineon will pay.
However, the motivation was discussed and it is that the back-end assembly of integrated circuits and printed circuit assemblies are moving closer together and must be considered together especially for application in areas such as industrial, power and automotive electronics.
Schweizer's chip embedding technology will round out a proprietary chip embedding packaging technology of Infineon's called Blade and which is used in dc/dc converson components. Infineon is also working on the embedding of ICs within PCBs and in these circuits the heat created by the chips is dissipated directly via the PCB. It is also expected that 48V distribution will be deployed in vehicles and chip-in-PCB can helphere.
"Our shareholding in Schweizer Electronic AG supports us on the road from product thinking to system understanding. Chip embedding yields a great added value for our customers, as their systems become more compact and even more efficient at the same time," said Ploss, in a statement.
"Infineon is the technology leader for power semiconductors and Schweizer is a leading manufacturer of high-performance printed circuit boards in the automotive and industrial segments. Owing to their excellent market positions and good customer relations, our two companies are a very good fit. We have already proven this to be the case by our jointly developed demonstrators for tailor-made customer solutions," said Marc Schweizer, CEO of Schweizer Electronic.
Related links and articles:
IHS power semiconductors research
News articles:
Infineon to Buy International Rectifier for $3 Billion
Infineon, Deutsche Telekom Team On Industrial Security
Infineon to Spend $400 million on Austrian R&D Site