The market for chips used in industrial electronics was $8.61 billion in 1Q14, up 0.6 percent from the fourth quarter of 2013 and a robust increase of 17.5 percent from the first quarter of 2013, as shown in the attached figure. Although the growth in the first quarter was less than 1 percent, the expansion was achieved during a quarter that usually sequentially down on the previous quarter.
IHS, the publisher of Electronics 360 is forecasting that the industrial electronics chip market could finish 2014 with $35.42 billion in annual revenue, up 9.4 percent from $32.39 billion in 2013. This would follow on from 8.8 percent growth in 2013, which came after a 5.0 percent loss in 2012.
In the first quarter industrial electronics drew strength from an improving global economy. The sectors that performed best included factory automation, commercial aircraft, light emitting diodes (LEDs) for lighting, climate control, renewable energy, medical electronics, application-specific testers and transportation.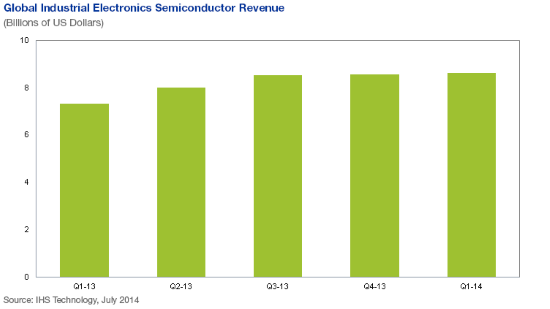 Global industrial electronics semiconductor revenue (billions of US dollars). Source: IHS.
In contrast, the segments that did not do as well were homeland security, military aircraft, and general-purpose test and measurement.
The United States, China, Japan and Germany together accounted for 71 percent of chip-design influence. The United States remains the leader with nearly one-third market share, but a strengthening China will increasingly challenge U.S. dominance and also benefit from a declining Japan.
Related links and articles:
News articles: