Scientists from Tohoku University in Japan have developed a planar light source based on carbon nanotubes with an efficiency of 60 lumens per watt based on a field-emitter construction.
The device has a diode construction with single-walled carbon nanotubes (SWCNTs) as the cathode field emitters and a phosphor screen as the anode.
Previous researchers have used CNTs but they have required a third terminal. The team from Tohoku University, led by Norihiro Shimoi, an associate professor of environmental studies, said that the simple diode structure of their device has a low driving voltage and good brightness homogeneity and has the potential to provide a new approach to lighting.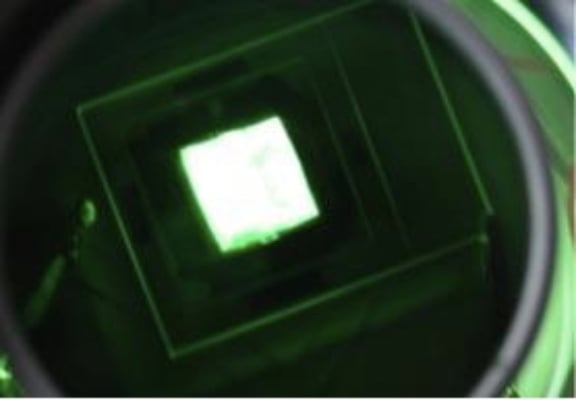 Carbon nanotube based planar light source device through a neutral density filter. Source: Norihiro Shimoi/Tohoku University
"Many researchers have attempted to construct light sources with carbon nanotubes as field emitter," Shimoi said. "But nobody has developed an equivalent and simpler lighting device."
The SWCNTs were dispersed in an organic solvent and painted on to an indium tin oxide cathode conductor. The surface was scratched with sandpaper to raise lift up the broken ends of CNTs to form point emitters.
"Our simple 'diode' panel could obtain high brightness efficiency of 60 lumen per watt, which holds excellent potential for a lighting device with low power consumption," said Norihiro Shimoi, the lead researcher and an associate professor of environmental studies at the Tohoku University.
The paper published in the journal Review of Scientific Instruments did not indicate the voltage regime used except to quote figures of electric field strength of between 1 and 2.5 volts per micron. A vacuum gap between the CNT cathode and the phosphor anode of the order of 100-microns would therefore imply a voltage of between 100V and 250V.
The wet coating manufacturing process is low-cost and stable making it possible to fabricate large area uniform thin films for planar light sources, according to the researchers.
While the energy efficiency of the planar source is similar to that of LED which can go to 300 lumens per watt in R&D, the solid-state devices often rely on complex manufacturing processes and rare materials for doping. For comparison the old-fashioned 60-watt incandescent bulb produced about 1000 lumens of output or about 15 lumens per watt with about 95 percent of the energy going into heat.
Related links and articles:
http://scitation.aip.org/content/aip/journal/rsi/85/10/10.1063/1.4895913
IHS lighting and LEDs research
News articles:
Blue LED Inventors Win Nobel Prize
Philips Ready to Exit Lighting, Focus on Healthcare
Cree to Invest $83 Million in Lextar Electronics for LEDs