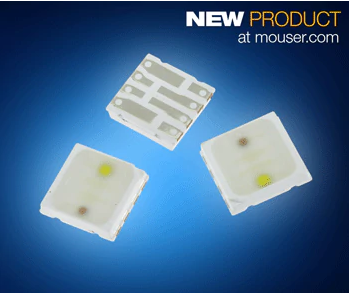 Source: Mouser
Mouser Electronics is now stocking CLQ6A-TKW red, green, blue and white (RGBW) LEDs from Cree®. The CLQ6A-TKW devices are the first individually addressable 1-watt RGBW LEDs in their class, opening new design possibilities for architectural lighting.
Cree CLQ6A-TKW devices are four-in-one LEDs that provide a single point source for excellent optical control, efficient color mixing and simplified design. They deliver 8.2 lumens for blue, 30 lumens for green, 14 lumens for red, and 25 lumens for white at 100 milliamps. A wide viewing angle and high brightness make these LEDs suitable for outdoor signage and architectural applications.
The RoHS-compliant CLQ6A-TKW LEDs are offered in 5700-kelvin Cool White, 4000-kelvin Neutral White and 3000-kelvin Warm White options in an industry-standard 5.0-by-5.2-millimeter PLCC8 package to simplify the design process and shorten time to market.
To learn more about these new devices, visit the Mouser site.