During IFA Berlin, Intel Corp. launched a new Core M Processor targeted at ultra-mobile devices where a stronger battery life and thin form factor are desired.
Intel said that the Core processor will be implemented into new 2-in-1 devices from a variety of manufacturers including Acer, Dell, ASUS, HP, Lenovo and Toshiba. Intel claims the device will provide a 50 percent faster compute performance while delivering a 40 percent faster graphics performance compared to the previous generation of Intel Core processors.
Intel also said the processor will allow for thin form factor PCs that can double the battery life when compared to a four-year old system with previous Intel technology included. Intel said the processor will allow for more than eight hours of video play on a PC, which is up to 20 percent longer battery life compared to the previousgeneration.
Intel previously provided some technical details of the Core M processor last month.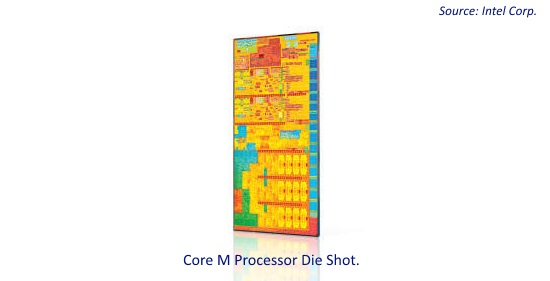 Kirk Skaugen, senior vice president and general manager of personal computing at Intel, said in a statement that Intel has been on a multi-year mission to "address end-user requirements and transform mobile computing" and that "Core M is the first of a new product family" that will enable a 2-in-1 device that combines the thinness of a laptop and the high performance of a tablet.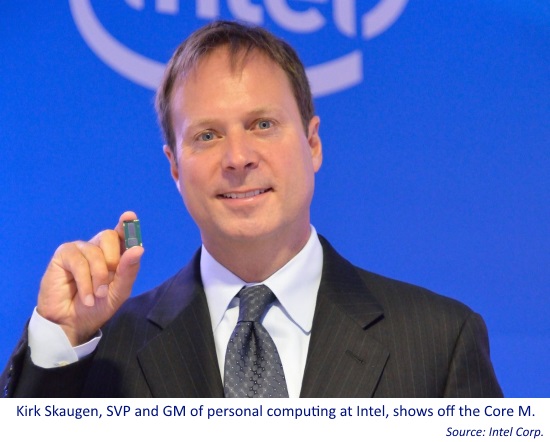 Intel added that there are already 20 companies that have signed on to deliver products based on theCore M device, the first of which will be available in time for this holidayseason. Some of the examples were given at IFA including:
The Acer Aspire Switch 12, a 2-in-1 notebook with a 12.5 inch FHD display with a kickstand and magnet keyboard.
The ASUS Zenbook UX305, a thin Ultrabook with a 13-inch QHD display as well as the ASUS Transformer Book T300FA 2-in-1 with a price tag of 599 Euros.
Dell's first commercial 2-in-1, the Latitude 13 7000 Series, combining a lightweight Ultrabook and a detachable tablet.
HP's Envy x2 detachable PCs available in13.3-inch and 15.6-inch form factors.
Lenovo's ThinkPad Helix, which Intel said will be 12 percent lighter and measures 15 percent thinner than the previous generation.
Related links:
IHS Technology Semiconductors and Components Page
News articles:
Intel Recruits Qualcomm Exec to Help With Mobile
Intel Foundry Gains Indian Chip Design Service
Intel Presents Broadwell CPU, 14nm FinFET Process
Google Selects Rockchip for Modular Smartphone Processor