Scientists at the University of Sheffield that have previously used spray-painting to product solar cells using organic semiconductors have now applied the method to a perovskite-type materials.
Organometal halide perovskite based photovoltaics were first demonstrated in 2012 and are now considered a promising material for solar cells as they combine high efficiency with low material cost. Efficiencies of 19 percent have been reported. Although this is still low compared with primary photovoltaic materials such as silicon and cadmium telluride the materials are much lower cost.
Now the Sheffield team have applied their spray-painting process so that very little of the perovskite material is lost. The process is expected to scale to the industrial level so that by spray-painting the perovskite layer in air, without the need to create a vacuum or special atmosphere, the overall energy used to make a solar cell can be reduced further.
"The best certified efficiencies from organic solar cells are around 10 per cent. Perovskite cells now have efficiencies of up to 19 per cent. This is not so far behind that of silicon at 25 per cent - the material that dominates the world-wide solar market," said lead researcher Professor David Lidzey, in a statement. "The perovskite devices we have created still use similar structures to organic cells. What we have done is replace the key light-absorbing layer - the organic layer - with a spray-painted perovskite. Using a perovskite absorber instead of an organic absorber gives a significant boost in terms of efficiency."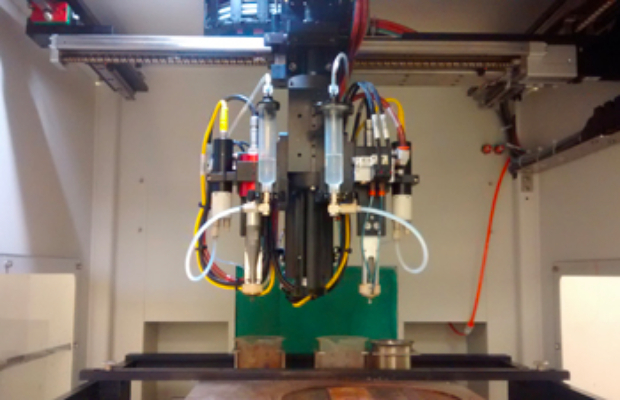 Twin spray-head machine for perovskite solar cells. Source: Sheffield University
The Sheffield team found that by spray-painting the perovskite they could make prototype solar cells with efficiency of up to 11 percent. Professor Lidzey said: "It's a significant step towards efficient, low-cost solar cell devices made using high volume roll-to-roll processing methods."
The University of Sheffield's Department of Physics and Astronomy and the University of Cambridge announced in February 2013 that they had created a method of spray-coating a photovoltaic active layer by an air-based process – similar to spraying regular paint from a can.
Related links and articles:
News articles:
Semprius' Stacked Solar Cell Shows 43.9% Efficiency
Perovskite Material Makes Longer-lived Solar Cells