Solar Cell Material or Laser Material?
The material "perovskite," discovered in the Ural Mountains of Russia in 1839, has been used as solar cell material only in the past year and a half. Researchers have found that this is a high- performing material for transforming solar energy into electrical current. Silicon-based solar cells produce electricity at an efficiency of around 20%. It has taken over 20 years of research and improvements to reach this percentage, while solar cells made of perovskite have achieved conversion efficiency of 17% and an unsurpassed cell voltage of 1 volt in less than two years of research.
Researchers at the University of Cambridge and the University Oxford have found that perovskite can also act as laser material. Professor Sir Richard Friend's team at Cambridge's Cavendish Laboratory, working with the team of Professor Henry Snaith from the University of Oxford, have proved that this material is excellent not only at absorbing light to produce electrical current, but is also excellent in emitting light, showing that perovskite can produce lasers. The researchers put a thin layer of perovskite between two mirrors to create an optically-driven laser displaying high luminescence, with 70% of the absorbed light re-emitted.
"This first demonstration of lasing in these cheap solution-processed semiconductors opens up a range of new applications," said lead author Dr. Felix Deschler of the Cavendish Laboratory. "Our findings demonstrate potential uses for this material in telecommunications and for light-emitting devices." The researchers found that after light absorption, the material produces a hole- electron pair in less than one picosecond, but it takes several microseconds to recombine. Standard semiconductor materials such as silicon do not exhibit such unusually long carrier lifetimes and therefore cannot emit light.
"These long carrier lifetimes together with exceptionally high luminescence are unprecedented in such simply prepared inorganic semiconductors," said Dr Sam Stranks, from the Oxford University team. "We were surprised to find such high luminescence efficiency in such easily prepared materials. This has great implications for improvements in solar cell efficiency," said Michael Price from the Cambridge group. "This luminescent behavior is an excellent test for solar cell performance. Poorer luminescence [as in amorphous silicon solar cells, ed.] reduces both the quantum efficiency [current collected, ed.] and also the cell voltage." The high level of luminescence may lead to other applications such as the development of inexpensive electrically-driven lasers. The results of the research were published in the April issue of the Journal of Physical Chemistry Letters.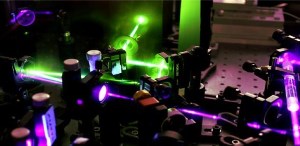 Latest research finds that the trailblazing 'perovskite' material used in solar cells can double as a laser material, strongly suggesting the superior efficiency already achieved in solar cells is only part of the journey. (Image courtesy of University of Cambridge)
Longer Lifetimes for Solar Cells
One obstacle to making photovoltaic (PV) solar cells truly cost-effective is their useful lifetime before degradation. Conventional energy sources such as hydro or fossil fuels have a much longer lifetime than current PV cells, which have a projected lifetime of only around 25 years. In early April, a group of researchers at the Okinawa Institute of Science and Technology (OIST) made a remarkable discovery about the mechanism of degradation in solar cells that may allow solar technology to compete effectively with standard energy sources.
Professor Yabing Qi and his team of researchers at the OIST studied solid-state dye-sensitized solar cells (DSSCs), which are highly efficient devices. In particular, the team studied the top layer of the cells, made of spiro-MeOTAD material. Most light absorption takes place in this layer. Because the top layer is open to the environment, it is susceptible to degradation from exposure to humidity, excessive light, temperature and other factors.
But determining which of these was the culprit was not easy. Professor Qi and his team did not know at the beginning of the research, but it was thought the likely degradation mechanism was due to photo-oxidation. This is a chemical process that takes place when the material is exposed to light and air, and adds impurities to the material. The team found that there was no significant degradation in the spiro-MeOTAD due to this process. Then the group looked at the possibility that air alone may cause the degradation, and it they found that is was, in fact, simply air exposure that was responsible. The spiro-MeOTAD is a porous and amorphous material, a property that makes it useful as a solar cell material, but that also allows the constituent molecules of air to diffuse easily inside the material and become impurities, leading to degradation and causing a drop in the solar cell's efficiency over time.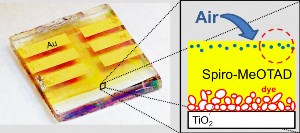 Air exposure causes incorporation of gas molecules into the spiro-MeOTAD layer. (Image courtesy of OIST)
A possible solution to this problem is to find an encapsulation material to protect the spiro-MeOTAD layer. "If we can find a method of low-cost encapsulation, it is possible, for the first time, to achieve low cost, high efficiency and long lifespan in the same cell," Professor Qi says. "Since these solar cells are easy and cost-efficient to produce, adding this extra step can provide one more piece of the puzzle for an ideal solar cell," he adds. The research was published in the Journal Of Physical Chemistry Letters on March 27, 2014