Plastic Logic Ltd. has demonstrated a flexible plastic AMOLED display that could be suitable for wearable electronics. The 4-inch, 3:1 aspect ratio demonstration display is monochrome with 256 grey levels and offers 30 frames per second image rendering with a 60Hz refresh rate.
The flex AMOLED display was made using Plastic Logic's organic thin-film transistor backplane technology, combined with OLED frontplane materials from Novaled GmbH (Dresden, Germany). The display is intended to demonstrate the suitability of the technology for wearable devices where displays and sensors can conform to curved and irregular shapes of the human body. Novaled is a subsidiary of Samsung with Samsung Chiel Industries owning 50 percent, Samsung Electronics owning 40 percent and the remaining 10 percent held by Samsung Venture Investment.
Plastic Logic (Cambridge, England) has said it wishes to operate an IP licensing model and transfer its flexible plastic AMOLED manufacturing process to established display makers and consumer electronics companies. It is now seeking companies to take flexible electronics into production.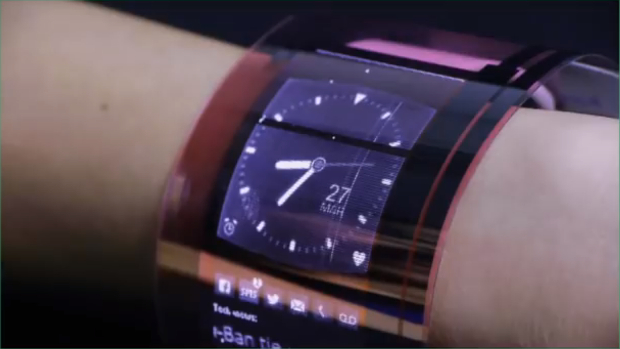 4-inch AMOLED demonstrator is bendable and wearable, next comes rollable, then foldable. Source: Plastic Logic.
The demonstrator has a display resolution and density of about 380 by 120 pixels and 100 pixels per inch. The assembly including encapsulation has a thickness of 280-micron, Mike Banach, research director at Plastic Logic, told Electronics 360.
The organic thin film transistor layer itself is capable of bend radius of less than 0.5mm without any signs of degradation, said Banach. However, that is without the OLED layer and necessary encapsulation. OLED performance is susceptible to degradation due to moisture and so maintaining the integrity of encapsulation is vital to any foldable display. "We provide the transistor technology but we have demonstrated displays rolled round a pencil at 4mm bend radius without a problem. A wrist-worn device with a 15mm radius is easily achievable."
In wearable applications it will also be necessary to demonstrate endurance cycling but with only a few demonstrators of complete displays that evidence is still be accumulated, Banach said. "Again on the TFTs alone we've shown 10,000 bends at 1mm bend radius without degradation. I think wearable displays are here. The technology is ready for the next step; foldable electronics."
Unfold a smartphone to form a tablet
Banach said the advent of foldable electronics could allow a smartphone to fit be taken from the pocket and then unfolded to become a tablet computer. The challenges will include a mechanism that would show minimal signs of the fold when opened out and being able to get the folded, doubled up display in to the same space currently occupied by a single display. "The folded display needs to be less than 1.5mm thick," said Banach.
The company also needs to extend backplane to driving color AMOLED displays at high resolution. "We are working on color now. It should be available in a few month," Banach told Electronics 360.
Plastic Logic's technology is based on an organic transistor than can be printed on plastic substrates using only low temperature processes – less than 100 degrees C. Plastic Logic has already manufactured and delivered active-matrix backplanes to drive flexible electrophoretic and AMOLED displays. "We build on commercially available barrier films that are less expensive and more available."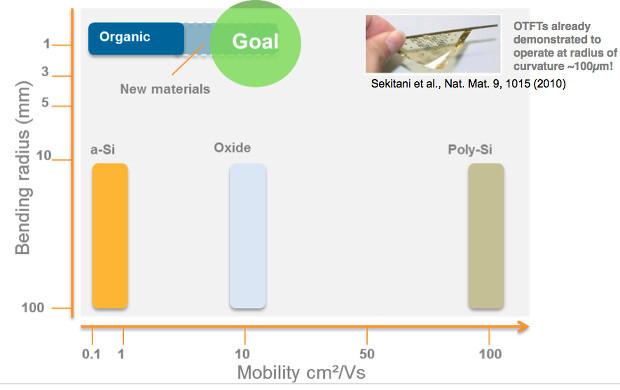 Organics for thin-film transistor active-matrix backplanes may be low in electron mobility but they have an advantage in bending radius. Source: Plastic Logic.
Nonetheless Plastic Logic has also entered into a partnership with Solvay Specialty Polymers LLC (Alpharetta, Georgia) to develop low-power, flexible electronics suitable for sensors, mobile displays and wearable equipment.
Solvay Specialty Polymer has introduced a range of electro-active polymers – being marketed as Solvene EAP – that have an intrinsically high dielectric constant, which enables high charge at low applied electric fields. Integrated with Plastic Logic's transistor technology this creates a step change in the voltage requirements for electronic displays and thereby lower power. The companies have committed to a joint development program that will initially demonstrate and then industrialize low-power variants of such devices within two years.
Investors in Plastic Logic include Oak Investment Partners and Rusnano, the Russian state-owned nanotechnology wealth fund. Plastic Logic has a manufacturing site in Dresden, Germany and there have been plans to transfer technology to Russia and open up manufacturing there.
"The route to scale is a factory out in Asia, somewhere," said Banach. However, that factory is unlikely to be owned by Plastic Logic, which sees active OTFT backplane supply and intellectual property licensing as essential parts of its business model.
Related links and articles:
News articles:
Intel Ignores History With Wearables Buy
UCLA Improves IGZO-Type Display Manufacturing
Corning, Atmel Team on Thinner, Curvy Touchscreens