By its very definition, the Internet of Things (IoT) is ripe for hype. After all, it applies to every thing. Name a thing, any thing, and it's predicted to be part of the IoT. There are things that are already connected or in the process of being connected to the Internet today: machines in factories, electricity meters, TVs. There are the emerging things: smart watches, smart thermostats, parking lots with sensors that report where the open spaces are. And there are those things or combinations thereof that are only in trials (or in the mind of an engineer). At a recent conference in Washington, D.C., for example, a research group demonstrated a project that combined dogs with sensors, aerial drones and haptic-operated robots in a system designed for search and rescue in disasters. (See "On the Internet of Things, No One Knows You're a Dog.")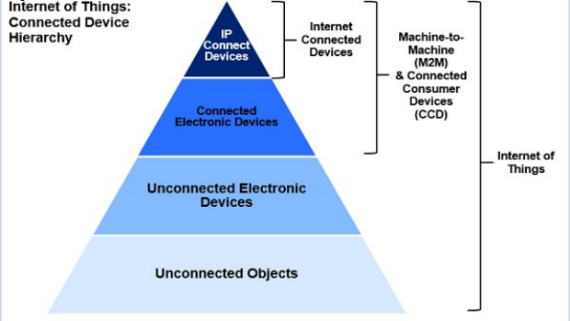 Figure 1
Source: IHS
The pervasive potential of the IoT has companies all over the world, in virtually all markets, salivating. GE estimates that the wave of innovation enabled by the IoT could boost global GDP by as much as $15 trillion over the next 20 years. At his keynote at the Consumer Electronics Show this year, Cisco Systems CEO John Chambers said the "Internet of Everything" could generate $19 trillion over the next 10 years. That figure comes from what Roberto De La Mora, senior director for IoT marketing at Cisco, calls "value at stake." GE analyzed 61 use cases and included not only products, but also the value created by products and services, such as better user experience, lower costs and increased efficiency. The $19 trillion comprises $14.4 trillion of value at stake in the private sector and $4.6 trillion in the public sector, he says. In terms of the actual total addressable market, Cisco estimates IoT will be $80 billion by 2016.
The challenge with forecasting revenue for IoT is determining what exactly to include, said Bill Morelli, associate director of M2M and IoT at IHS Inc. Hardware that enables IoT? Industries that will benefit from efficiencies produced by IoT? New services created as a result of the adoption of IoT technologies?
"The numbers can be all over the map, depending on how you want to define IoT revenue," he said. IHS is in the process of developing its definition and plans to publish revenue forecasts this fall. Meanwhile, in terms of units, IHS forecasts the installed base for Internet-connected things to grow from 12.1 billion devices in 2013 to 49.8 billion devices by 2025. The market research company estimates that revenue from just one segment of the IoT market - semiconductor-based sensors – will grow from $8.9 billion this year to more than $10.6 billion by 2017.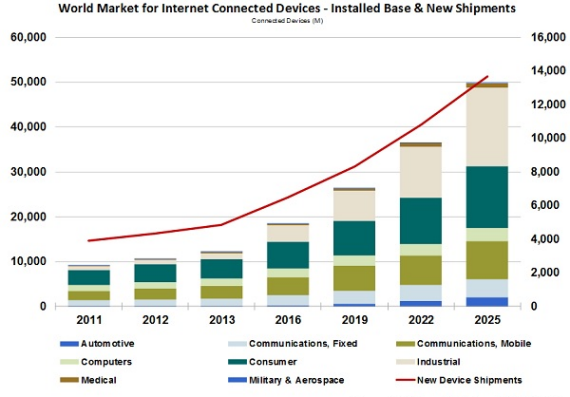 Figure 2
Source: IHS
The markets most likely to gain traction in the near term are consumer electronics, such as wearable technology, like smart watches, and consumer automotive. Consumer devices have short life cycles and are frequently upgraded and replaced, said Morelli. And the hot spot in consumer automotive is infotainment, which delivers telematics and entertainment to the vehicle. "Increasingly, car manufacturers are looking to build this capability into the vehicle," he says.
Whoever's numbers you believe, companies are jockeying now to sell into the IoT. The first electronics suppliers to benefit may be chip, sensor and networking companies that can provide the hardware and software to enable a thing to collect information and transmit it over the Internet in the first place. As the smartphone market rapidly matures, these vendors are looking for new ways grow, Morelli said. IoT is the perfect opportunity. "For IoT, you need two things: embedded processing and connectivity," he noted. Indeed, within the last year many of these companies have launched specific IoT products, created business units to specifically focus on the IoT or both.
Chipping away at the IoT
Sensor and semiconductor companies are at the leading edge of this market. Sensors, predominantly microelectromechanical systems (MEMS) devices, pick up what's happening in the physical world – temperature, pressure, pitch and yaw. Bosch dominates the MEMS market in consumer and automotive applications, with sensor revenue of $1 billion in 2014, according to IHS. Last December, it created an entirely new company, Bosch Connected Devices and Solutions GmbH, to focus on sensors and software for the IoT. Its initial focus is on smart homes, traffic, transportation and logistics, according to the company.
Chip companies, meanwhile, are focused on processors to take the information, digitize it and send it to the Internet.
ARM, which created an IoT business unit last year, is a natural for IoT, noted Morelli, because it's always been a low-power embedded processor core. "They are kind of grandfathered into the IoT market." The company has positioned its ARM Cortex-M processor core as its main IoT product and just announced it was establishing design center in Taiwan focused on Cortex-M IoT designs.
Qualcomm entered the market last fall introducing its Qualcomm Internet Processor (IPQ) chipset designed specifically for connected devices in the home, such as gateways, routers and media servers.
Intel is focusing on the IoT with its Quark system-on chip (SoC), also introduced last fall. With processor cores one-fifth the size of the Atom's and operating on one-tenth the power, Quark is the smallest SoC the company has ever built. Intel said it would sample form-factor reference boards based on Quark in Q4 2013 to help customers develop products in industrial, energy and transportation markets. Intel also created an IoT Solutions Group in November.
All things are connected
In the networking market, Cisco is trying to position itself as the one to connect all these things. Last October, it formed a business unit focused on the IoT. The group brings together formerly disparate marketing and technology resources "to create a focus [on IoT] across the entire company," said De La Mora. Cisco wants to make it a billion-dollar business, he added.
The unit is focusing on adapting connectivity, security and interfaces to the needs of the IoT. For example, IoT networks happen in "non-traditional" places, De La Mora said. They often operate in harsh, outdoor environments. The networks have to support different protocols, connecting devices that use a variety of low-power technologies and be able to secure them in a very different way than securing e-mail traffic from office to office.
"If you are connecting sensors, meters and motors to the Internet and then linking that back to your IT systems, it's a potential security problem," De La Mora said. So Cisco is creating IoT-specific versions of security software such as intrusion detection, and programming the software into ruggedized devices that can be located close to the sensors and networks they are protecting, he says. This is security software that works for programmable logic controllers and in supervisory control and data acquisition (SCADA) networks, where the priority is ensuring operation of the device rather than protecting the confidentiality of the contents of email. "That's a huge departure from what you normally do in IT," he noted. On a corporate network, security software might detect a suspicious e-mail, take it off the network, vaccinate it and then put it back on the network. But in IoT, "if what you're securing is the water pump cooling the reactor in a nuclear power plant, if you do that, you might create a nuclear explosion."
Another big difference is enabling and managing applications. Smart traffic lights or smart thermostats are typically not installed by IT experts, so these devices have to configure themselves automatically. And they have to have an interface and management capabilities close to the device. The interface translates whatever wireless protocol the thing uses into Internet Protocol. The management software decides what data should be transmitted, De la Mora said. After all, with millions of devices connected to the network, you don't want them to send all their data, only the data that matters.
More software than hardware
Because the shipment volumes of hardware for the IoT will ultimately be astronomic, prices should come down fast. That means hardware companies must use a different business model, Morelli said. "You'll see the companies move up the value stack pretty quickly," perhaps by partnering with or even acquiring other companies to optimize products for IoT and particular applications with IoT. In May, for example, a Swiss company called u-blox, which makes cellular machine-to-machine modules, acquired Swedish connectBlue ABT to add short-range wireless communications (BlueTooth and 802.11) to its products.
For many companies, that will mean developing software and customizations for particular vertical markets. In the IoT market, customers "don't come and buy networks," said De La Mora. "They come and buy protection for people and assets. They come and buy a system to do proactive maintenance on a manufacturing floor. They look for inventory automation and traceability for distribution."
Cisco is creating horizontal connectivity and developing specific applications for vertical markets. For example, in the railroad industry a frequent cause of derailing is the failure of ball bearings in the wheels, he said. Despite proper maintenance, the bearings can fail with little warning. To catch signs that a failure may be imminent, Cisco is developing a network within the train itself that will monitor the wheels and alert the conductor if it detects signs of impending failure so he can stop the train.
Related Links