Touting low power, long range, security, and Internet compatibility, combined with a strong global customer base in high-reliability power utility networks, the Wi-SUN Alliance is jumping into the hotly contested wireless Internet of Things (IoT) fray.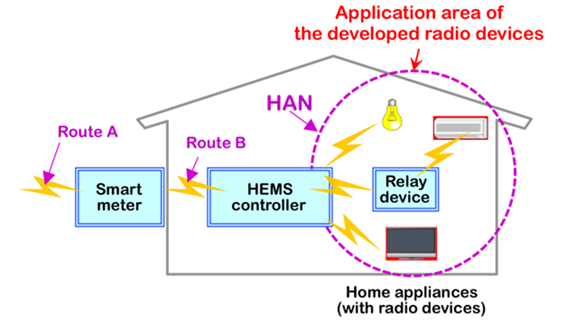 Fig. 1: Japan's NICT announced in February that it had developed the first radios to support Wi-SUN's Home Area Network (HAN) profile, which connects to the Home Energy Management System (HEMS).
Already in the fray are Wi-Fi, Bluetooth Smart, ZigBee, and LoRa, as well as the Thread Group, a consortium backing a home-automation networking protocol that can run atop Wi-Fi, Bluetooth and ZigBee radios.
The Wi-SUN Alliance was formed in April of 2012 to accelerate the development of interoperable products and specifications around the IEEE 802.15.4g-based wireless networking standard that had been approved only weeks earlier, in March of 2012. The standard was formed as an outdoor long-range communications technology using low-power, mesh networks and to date has found a home in power utilities in the U.S. and Japan. Europe has recently opened up spectrum suitable for Wi-SUN in the 870- to 876-MHz range.

2
While power utilities were the first to use Wi-SUN radios, the Wi-SUN group has since grown from 8 to 90 members and has 50 certified products in the field. Slowly but surely it has been creeping beyond utilities into general Field Area Networking and the IoT and applications ranging from home automation to smart cities (streetlights, parking systems and traffic monitoring) to smart agriculture.
Though it originally targeted <1-GHz applications, the group recently announced support for smart cities in the 2.45-GHz unlicensed ISM band.
"There are a huge range of opportunities and Wi-SUN is the ideal technology for this," said Beecham, who pointed to a number of key features, including:
A data rate of up to 300 kbits/s over a point-to-point range of 4 km (with a power output at the antenna of 1 W and use of standard SMA, non-directional antenna.)
Its use of an efficient mesh protocol that allows up to 16 hops to achieve a total range of 64km
Mandatory minimum data rate of 50 kbits/s
Typical receive-mod power consumption of 50 mW
Certificate-based security (also, use of mesh plus frequency hopping "makes denial-of-service (DoS) attacks extemely difficult to execute.")
"We're using classic IETF protocols such as TCP/IP, UDP and shim layers like 6LoWPAN so we know what's going on at IPsec," said Bob Heile, Director of Standards at the Wi-SUN Alliance, and Chair of, among other groups, the IEEE 802.15 Working Group on Wireless Specialty Networks. According to Heile, its use of standards-compliant hardware and protocols is a great deal of what makes Wi-SUN attractive.
"The use of 6LowPAN as an adaptation layer also helps reduce power consumption as it allows compression of IPv6 headers so you can reduce data traffic," he added.
Wi-SUN versus Bluetooth,
It's hard to mention an IoT or FAN option without some comparison to what's already on the field. According to Heile, the Wi-SUN modem is far less complex than that used by the others and its use of the IPv6 Routing Protocol for Low power and Lossy Networks (RPL), ensures optimum energy consumption.
Also, with respect to LoRa, it has one key advantage, besides higher data rates: "If the [LoRa] tower goes down, you're dead," said Beecher. [Using the resilience of mesh networking,] "We have a self-healing connection," he said. Instead of data gathering coming to a halt, "Mesh allows multiple data aggregation points so if one dies, there's another path back to back-office collections system."
"[IEEE 802].11, [Wi-Fi] only has an Interest Group so it's years away from a credible [IoT] solution," said Heile. "It has a long way to go, while this [Wi-SUN] has been out for three years already."
The technology is compatible with products already deployed by some US smart meter deployments, dating back to 2006, according to Beecher, "So it's proven." Also, "LoRa is power based, so it gets good range, but it is "challenged", data-rate wise," he added.
For its part, "Bluetooth is very good for short range, personal-type IoT applications, while 802.11n is great for streaming video," said Beecher. "Where Wi-SUN definitely wins out is with mesh networking, for robustness: the IPv6 part also allows us to interconnect into an IoT-type network easily."
Relative to the Thread Group, Heile was somewhat dismissive. "Thread is building its own protocol, it's own IP stack. We use open standards: I'm not sure where Thread fits in, form a Wi-SUN, 802.15, or ZigBee perspective," he said.
"With some of the things we're contemplating with 802.15.4g and making it a truly 802.11 or 802.3-like data communications and physical layer, using all the standard IP services that have been created for Ethernet and Wi-Fi, it really makes us wonder what utility Thread brings to the party, except that is a non-standard approach," said Heile.
While Wi-SUN was originally designed for outdoor applications, its use of bands below 1 GHz give it an indoor propagation advantage relative to Bluetooth and Wi-Fi at 2.45 GHz, said Beecher.
While all players recognize there is no "one size fits all" solution for wireless IoT, the debates as to which ones will come and go remain, given the 50 billion wireless nodes Cisco expects to see deployed by 2020.
In the meantime, Wi-SUN will continue to develop profiles for specific applications, working with the Alliance's 90 members to remove items and features that are not useful leaving a subset of the standard for each application.