Right on schedule, the Thread Group has formally released the IP-based Thread wireless mesh networking protocol for low-power home-based devices. It has also announced that it had appointed Qualcomm to its now 10-member board of directors.
Hot on the heels of the specification release, Silicon Labs has also announced a fully compliant Thread solution to provide what it believes will be the fastest path to developing Thread-compliant products for the Internet of Things (IoT), including thermostats, wireless sensor networks, smoke detectors and wireless access points.
The Thread protocol is designed from the ground up to run off standard IEEE 802.15.4 radios, be low power, resilient (mesh), IP based, open, secure, user friendly, and enable fast time to market.
According to Skip Ashton, vice president of software engineering at Silicon Labs, it has accomplished all that, now the stage is set to see who will use it and how soon products based on Thread will get to market.
As far as Ashton is concerned, there are three wireless winners designers can now bet on: Wi-Fi for large data transfers over a wide range; Bluetooth for point-to-point connections, mobile device connectivity and health and fitness devices with short bursty data transfers; and Thread, for connected devices with networks of solutions that either coordinate, communicate and interact from a control and automation perspective.
For IoT, Ashton is convinced Thread will win out. "A standards-based approach [such as 802.15.4 radios] has been proven to be winner in these use cases [low-cost, widely deployed wireless]," he says, pointing to ZigBee Pro networks that are now in mass deployment. "The market is now asking for a low-power mesh networking solution that is IP-based and the only real solution for all this is Thread."
At the moment, Bluetooth does not have mesh capability, though CSRmesh is considered to be high on the list of options. However, Ashton notes that, this simple flooding approach was already tried and abandoned by Thread, which is now in its third year of development, though the group was only announced officially in July of 2014.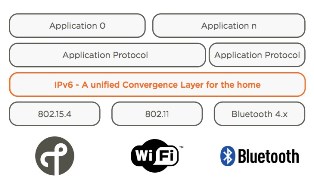 Thread uses 6LoWPAN and carries IPv6 natively, runs on existing 802.15.4 silicon, connects over 250 products per network and is expected to sit astride Wi-Fi and Bluetooth as one of three primary home networking and connectivity options and the IoT.
"Bluetooth wants to do something quick and this [flooding the network with advertisements approach] may work for small networks, but they eventually have to get to routing; they can do it, but it will take time." Once it is developed, then it has to get deployed. Bluetooth is currently working on getting its IP solution deployed. Thread is here now, and addresses the market need, he says, and with elliptic curve cryptography (ECC) and its ease of commissioning of new devices. "We believe it will become the de facto standard for home networking," says Ashton.
ZigBee and Thread serve similar markets and both are mesh network protocols, but ZigBee has only recently added IP capability, while Thread is built from the ground up for IP. Along with security and ease of commissioning that gives Thread a clear advantage, says Ashton.
Qualcomm Technologies thinks so too, as well as 160 other companies, including staunch supporters, board members, ARM, Freescale, Samsung, Nest, Yale, two new board members, along with Somfy and Tyco.
"This announcement of the specification shows it's real—and the addition of Qualcomm is a huge deal," says Chris Boross, president of the Thread Group.
The Thread Group has also announced that it retained Thomas Sciorilli to lead the Thread product certification program that will be launching in September. Final certification will include UL certification. Products are expected to be on the market by the end of 2015.
Along with the Thread stack, Silicon Labs has added an update to its tools with an application builder to allow customers to build and deploy applications on top of the stack, as well as a border router as an add on to its development kit. The border router is part of the Thread architecture and allows devices to bridge to Wi-Fi, Ethernet and other IP networks.
"The border router translates from one IP network to another, between physical layers," says Ashton. "The beauty of being on an IP network already is that I don't have to do a gateway with translational services and break my security models and all that stuff as I'm simply routing packets."