LG Display has announced it has developed an 18-inch flexible OLED display panel as well as an 18-inch transparent display panel.
LG, along with Samsung, has been a pioneer of the organic light emitting diode (OLED) display for television and for smartphones. Both companies have already introduced smartphones with curvilinear forms and curved displays made using flexible plastic OLED substrates (see Ahead of the Curve: Samsung, LG Debut Flexible Displays).
LG is now promising to produce a greater than 60-inch roll out transparent display at UltraHD resolution by 2017. UltraHD for television, sometimes referred to as 4K is in fact 3840 pixels by 2160 pixels.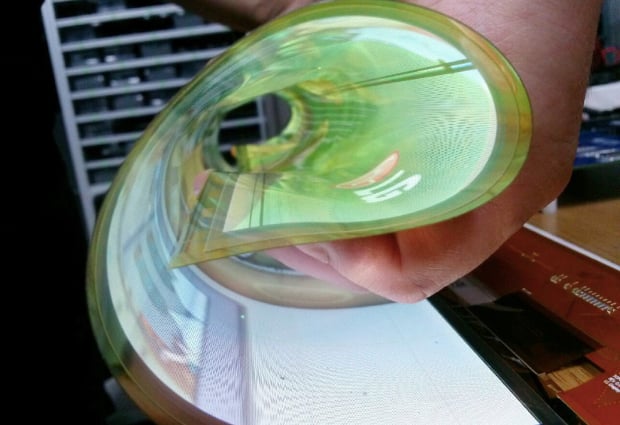 LG Display's 18-inch diplay can be rolled up into a cylinder of 6cm diameter. Source: LG Display.
The research display has a diagonal size of 18-inches and high-definition class resolution of 1200 pixels by 810 pixels. The panel can be rolled up with a radius of 3cm without affecting the function of the display. The display is applied to a polyimide film, which helps reduce the thickness of the panel and thereby its curvature of radius.
The transparent OLED panel has a 30 percent transmittance and LG Display has lowered the "haze" of the panel to a level of 2 percent. Haze is the scattering of transmitted light due to the use of multiple layers in a display's construction. As the transmittance of transparent LCD panels is typically around 10 percent, this new panel offers a significant improvement.
"LG Display pioneered the OLED TV market and is now leading the next-generation applied OLED technology. We are confident that by 2017, we will successfully develop an Ultra HD flexible and transparent OLED panel of more than 60 inches, which will have transmittance of more than 40 percent and a curvature radius of 100R, thereby leading the future display market." said In-Byung Kang, head of the R&D center at LG Display, in a statement.
IHS estimates that the demand for flexible displays will grow by over 300 percent in 2014 compared to 2013, with sales reaching nearly $100 million. Moreover, demand for flexible displays is projected to undergo massive growth through the end of the decade, with applications across a broad range of products – from smartphones with displays that curve around the sides, to smart watches with wraparound screens, to tablets and PCs with roll-out displays, to giant video advertisements on curved building walls – driving growth in shipments to almost 800 million units by 2020 and market revenues to $41.3 billion.
Related links and articles:
News articles:
Flexible Plastic Logic Pursues Wearables Display Market
Ahead of the Curve: Samsung, LG Debut Flexible Displays