The global market for AC-DC and DC-DC power supplies will grow from $20.65 billion in 2013 to $25.1 billion in 2018, driven by light-emitting diode (LED) lighting systems and media tablets, according to a new study by IHS Technology.
Worldwide power supply revenue will rise 4.6 percent in 2014 and 2015 and then 5 percent in 2016, said the study, titled The World Market for AC-DC & DC-DC Merchant Power Supplies. Growth will weaken to 3.3 percent in 2017 and 2.5 percent in 2018.
The increase in power supply sales will follow three years of sluggish growth. From 2010 to 2013 revenue increased just $1 billion. The power supply market grew 6.5 percent in 2012, but declined 3.2 percent in 2013 and increased just 1.5 percent in 2013, according to the IHS report.
Jonathon Eykyn, power supply and storage component analyst for IHS, said the power supply market revenue rebound will be driven by emerging applications including LED lighting systems and media tablets. He said power supply revenue from these two applications alone is forecast to increase by more than $2.5 billion from 2014 to 2018.
He added that other market segments, including telecommunications, data communications and industrial, are also projected "to provide growthopportunities to power supply vendors in the coming years."
Also driving demand for AC-DC and DC-DC power supplies will be the continued growth of data centers that support cloud computing and the Internet of Things. Revenue for power supplies to the server, storage and networking markets will rise 24 percent from 2014 to 2018, according to the report.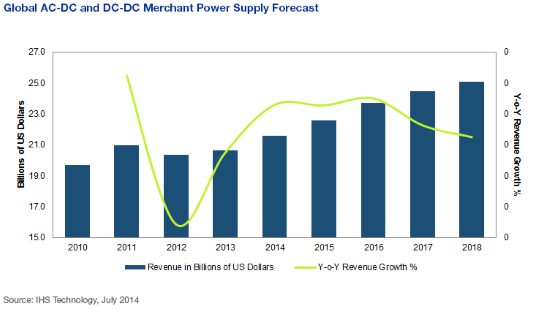 Power supplies used in cell phones are forecast to increase 8 percent in 2014, although growth will weaken in 2015 as more phones begin to ship without a bundled charger.
The power supply market for desktop PCs and notebooks will fall about 2 percent per year between 2014 and 2018 as more consumers opt to purchase media tablets and smart phones rather than desktops or notebooks, according to the report.
These trends will impact sales rankings of power supply manufacturers. In 2013 six of the top 10 manufacturers changed positions and two new companies entered the top 10 tier. Delta Electronics retained its position as the world's largest supplier of merchant power supplies, followed by Emerson and Lite-On.
Power supply manufacturers Salcomp and Mean Well grew the most in market share in 2013. The two companies had combined revenue of more than 30 percent and added 1.3 percent to their share of market compared to 2012.
Related links: