The global market for ac-dc and dc-dc power supplies rose by 2.4 percent in 2013, but much of the growth was limited to specific markets, leading to substantial shifts in the rankings of major players, according to IHS Technology, publisher of Electronics 360.
The top ten vendors of power supplies accounted for 53 percent of the total global power supply revenue of $20.7 billion. This compares with 2012 when the top 10 had a nearly equivalent share of 52 percent, out of total industry revenue worth $20.1 billion.
While the top four suppliers remained as they were in 2012, familiar names Murata, TDK Lambda, and GE Energy all fell down the rankings to be replaced by risers Salcomp from Finland, Mean Well from Taiwan and Eltek from Norway.
Delta Electronics remaining the market leader, even though the Taiwanese manufacturer incurred a slight loss in market share during the year, as shown in the table. In the runner-up spot was Missouri-based Emerson, which also lost revenue.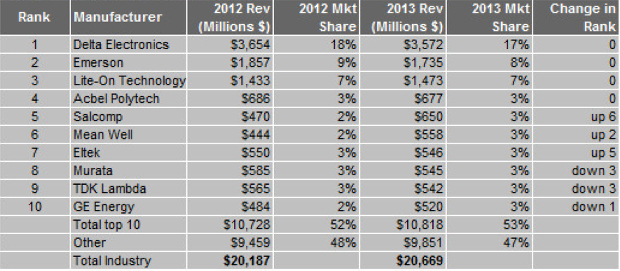 Global merchant power suppliers ranked by 2013 sales. Source: IHS Technology, May 2014
Overall, traditional power supply vendors serving sectors such as industrial and telecom applications experienced weaker demand for much of 2013 while manufacturers serving the mobile equipment and LED lighting sectors performed better. Meanwhile the steep drop in demand for power supplies for notebook computers hurt some of the largest power supply manufacturers in the market. Exchange-rate fluctuations also exerted an effect, affecting the performance of some suppliers, especially those based in Japan such as TDK Lambda and Murata.
"The market-share standings for 2013 are quite turbulent with six of the top 10 manufacturers shifting in rank and two companies entering the circle," said Jonathon Eykyn, power supply and storage component analyst for IHS, in a statement. "It is clear from these results that manufacturers will have to continue to diversify their portfolios in order to remain competitive."
These findings can be found in the forthcoming report, The World Market for AC-DC & DC-DC Merchant Power Supplies, from the Power & Energy service of IHS.
Related links and articles:
News articles:
Dialog Backs Both Qualcomm, MediaTek in Rapid Charging
Dialog Buys iWatt to Expand in Mobile and Solid State Lighting