Japan's Renesas Electronics Corp. remained at the top of the heap in automotive semiconductors last year as the company retained a $500 million lead over second-place player Infineon AG, according to IHS Technology.
Renesas recorded automotive chip sales of $2.9 billion in 2013, good for 11 percent of the total market, IHS said. Infineon's $2.4 billion in automotive semiconductor sales was good for a 9 percent share of the market, IHS said.
Despite maintaining the top position, Renesas experienced a 14 percent decline in revenue last year, driven entirely by a fluctuation in the exchange rate between the Japanese yen and the U.S. dollar, IHS said. When measured in terms of its native yen, Renesas' automotive semiconductor revenue actually rose by about 5 percent in 2013 compared to 2012, according to IHS.
Luca DeAmbroggi, principal analyst for automotive semiconductors at IHS, said through a statement that Renesas has built its dominance in automotive semiconductors based on its leadership position in major product categories within the market. "The company in 2012 was the top supplier in the microcomponent and logic ICs categories with market share of 37 percent and 13 percent, respectively," DeAmbroggi said. "Renesas is also ahead of the pack in the automotive infotainment domain with a market share of 11 percent."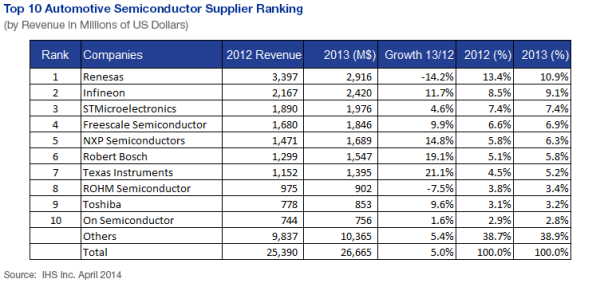 Renesas accounted for 40 percent of the automotive microcontroller business in 2013, far ahead of No. 2 Freescale Semiconductor Inc.'s 22 percent, IHS said.
The total value of the automotive semiconductor market was $26.7 billion in 2013, up 5 percent from 2012, according to IHS Technology's Automotive & Transportation service.
Infineon maintained the No. 2 position on the strength of its leadership in the powertrain semiconductor segment, according to IHS. The company held a 15 percent share in the area thanks to its broad portfolio of powertrain chips, ranging from analog power management ICs to discrete semiconductors, through microcontrollers as well as magnetic and pressure sensors.
The 2013 rankings of the top 10 automotive semiconductor suppliers remained in exactly the same order as in 2012, according to IHS.
"The strong hold of the top 10 suppliers comes from their decades of investment to meet the specific requirements of automotive tier 1 and original equipment manufacturers for product quality and service support," said Ahad Buksh, IHS analyst for automotive semiconductors. "IHS believes that because of this, automotive manufacturers will tend to maintain long-term relationships with such established semiconductor suppliers."
Related links and stories: