Three recent semiconductor business deals have gone some way to reshaping the automotive landscape, according to IHS analyst Ahad Ahmed Buksh.
The largest was the announcement by Infineon Technologies AG in August 2014 that it would acquire power semiconductor maker International Rectifier Corp. for about $3 billion. A couple of months before ON Semiconductor Corp. announced it would acquire Aptina Imaging Corp. for about $400 million. The most recent deal relevant to the automotive sector was Qualcomm's announcement that it would buy CSR plc.
The International Rectifier deal will bolster Infineon's second-place ranking in the automotive semiconductor business behind leader Renesas Electronics Corp. as indicated in the IHS top ten ranking based on 2013 sales but pairing Infineon and International Rectifier and ON Semi and Aptina together. The Aptina acquisition expanded ON's automotive semiconductor revenue by $183 million, allowing ON to move up one position to eighth place in the market, also based on 2013 ranking data.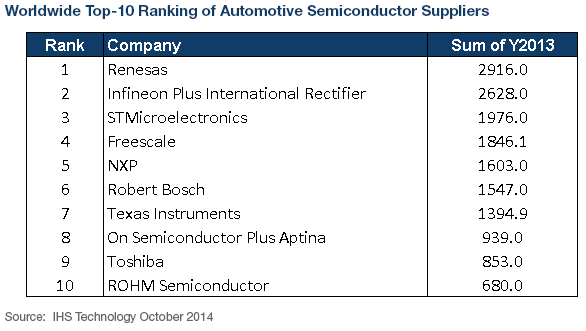 Although Qualcomm and CSR are much smaller players in automotive the acquisition will have a greater effect on the market ranking. The purchase of Qualcomm ranked No. 43 in 2013, while CSR came in at 23. The two companies combined would have ranked at No. 19 in 2013.
"While these three M&A deals differ in their specific goals and benefits, all have the same strategic objective: expanding market share in the lucrative business for semiconductors used in automobiles," said Ahad Buksh, analyst for automotive semiconductors at IHS. "The automotive supply is adding new infotainment, communications and driver-assist functionality at a rapid pace, causing related semiconductor revenue to rise 5 percent to reach $26 billion in 2013. Suppliers are buying up competitors to gain scale in the market, to add key capabilities and to capitalize on established customer relationships."
All of the top ten ranked companies and others, such as Qualcomm, are investing in automotive semiconductors, having identified the area as a strategic field of expansion. It also suits many of these companies as they see margins declining in other markets such as wireless and consumer electronics, Buksh said.
Related links and articles:
IHS automotive semiconductor service
News articles:
Infineon to Buy International Rectifier for $3 Billion
ON Semi to Buy Aptina for $400 Million