The market for chips for advanced driver assistance systems (ADAS) is growing at much higher rates that the rest of the automotive component industry and the revenue is on a steady upward climb having broken through $1 billion per year barrier in 2013, according to IHS Technology, the publisher of Electronics 360.
In 2014 the market will be worth $1,366.7 million, up 19.9 percent from the $1140.2 million IHS estimates it was worth in 2013. The annual growth rate will gradually decline as the market climbs towards $2 billion in 2017. This will represent a compound annual growth rate (CAGR) of about 16 percent over the period 2013 to 2017.
ADAS is not seen as the first step on road towards vehicles that are autonomous and this trend is also driving a need for data fusion modules because of the need of more "sensing" redundancy and higher functional safety requirements (ISO26262 and ASIL compliancy).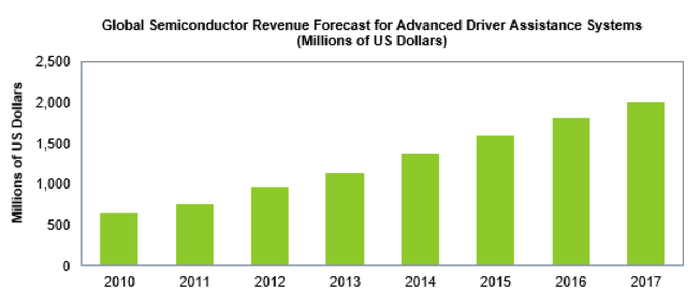 Source: IHS Technology; April 2014.
An important part of driver assistance take up is the transition from passive systems (warning only) to active (active control). Semiconductor revenue for active systems is expected to hit the $800 million in 2020, growing at a CAGR of 25 percent from $190 million in 2013. Semiconductor revenue for passive systems is expected to grow slow reaching $1.8 billion in 2020 from $953 million in 2013 with a CAGR of 9 percent, according to Luca Di Ambroggi, automotive semiconductor analyst with IHS Technology.
System and vehicle testing would need to be bullet-proof before the launch of autonomous vehicles on the market. As a result there is also likely to be considerable spending on infrastructure before fully autonomous vehicles hit the market in the 2030 to 2035 timeframe, Di Ambroggi said.
Related links and articles:
Automotive semiconductors market insight
News articles:
NXP's China Automotive Chip JV Begins Operations
Renesas Maintains Dominance in Automotive Chips
Apple, You Can Infotain Our Cars
Global Production of Electric Vehicles to Surge 67 Percent This Year