The nascent home automation market received a major jolt in mid-January when Google announced a deal to acquire smart thermostat specialist Nest Labs for $3.2 billion in cash. (Days later, Google unloaded smartphone maker Motorola Mobility, swallowing a nearly $10 billion loss in the process.) The deal for Nest combines a rising star in the smart home market focusing on energy-saving and safety products with a search engine giant anxious to leverage its cash and Android operating system to make a big splash in the connected home arena.
According to IHS Research, shipments of key smart home devices are expected to increase nine-fold between 2010 and 2017, to 300 million units. Consumers increasingly want home automation services like Nest's smart thermostats and smoke detectors that are tied together. That's what Google and Android could help provide, according to Elizabeth Mead, an IHS market analyst. Theoretically, the Google-Nest Labs deal could result in an "out-of-the-box home automation app," Mead said. "If it occurs, this development could provide a strong platform to grow the industry as a whole."
Indeed, modular and plug-and-play solutions appear to be among the keys to deploying a sustainable home automation ecosystem. Along with the Google investment, there are other signs that the home automation market is entering the mainstream.
Connectivity is key
A key piece of the puzzle is connectivity and the role of service providers in delivering home automation services to a mass market. Emerging cloud-based "managed systems" would allow consumers to control home temperature, security systems, even electric cars, using mobiles devices or a Web portal. At least one major carrier, AT&T, is running TV ads touting home automation services.
IHS found that some consumers nevertheless will prefer to control energy usage, security systems and other home management systems via in-home displays. Emerging intelligent displays could, for example, receive messages from utilities about dynamic energy pricing. IHS Research estimates that more than 46 million smart in-home displays will be shipped between 2010 and 2017.
Connectivity standards issues remain, however, and the debate over open source versus proprietary specs continues. While standards groups like the ZigBee Alliance tout open standards, Mead, of IHS, noted that proprietary technology "has been used in traditional home automation systems and still has a place in the market because it allows for the customization of smart home networks."
The oft-promised smart home of the future may ultimately depend on sorting out these connectivity issues so that home automation systems can, for example, be linked to the smart grid. One outcome might be what some vendors are calling the Internet of Things for the home. For instance, communications software specialist Grid2Home demonstrated a smart energy tool during CES 2014 that manages several grid-enabled devices via a remote, cloud-based server and is controlled on an in-home display. Grid2Home (now Kitu Systems Inc.) said its software has been ported to ZigBee and Wi-Fi physical layers. At CES, it ran on STMicroelectronics Stream Plug gateway.
Grid2Home is a member of the ZigBee Alliance, which unveiled a wireless communications profile in late January that is being pitched as delivering a plug-and-play capability for neighborhood smart grid networks. These neighborhood-area nets link smart meters and other energy distribution devices to network gateways operated by utilities.
Tobin Richardson, chairman of the ZigBee Alliance, thinks the home automation market and emerging connectivity opportunities are approaching a critical mass. He cites the entry of carriers like AT&T that view home automation as a "fourth play" after voice, data and video.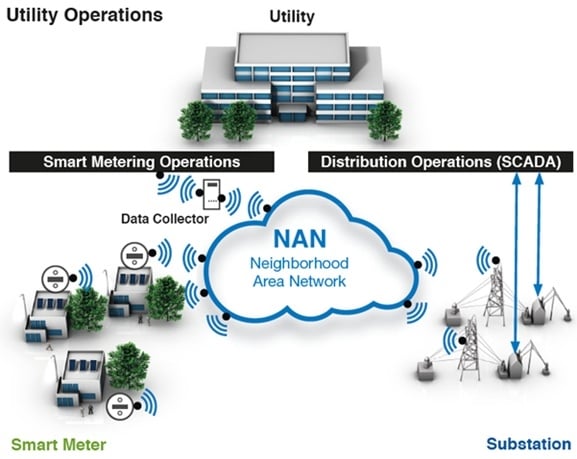 "The large players are making large investments," Richardson said. Google's acquisition of Nest Labs represents a major bet on the home automation market, "not just a nice piece of functionality" worth acquiring, he added.
As for device makers, Richardson stressed, "they have to be market relevant." For instance, customers such as utilities are looking for products that will last, not consumer devices that will be replaced in 18 months.
Once the network infrastructure is in place to link home automation to neighborhood-area networks tied to the smart grid, the outlines of an Internet of Things becomes a reality, Richardson asserted. At that point, device makers likely will see demand for a raft of new device categories.
Chipmakers who have initially focused on building automation are now shifting their efforts to the connected home. "For the home of the future, the vision is that everything is going to be connected," either directly through devices like a smart meter or via a gateway used to connect appliances or a security system, said Nelson Quintana, marketing manager at semiconductor specialist Renesas.
Device makers must agree on standards
Part of the connectivity challenge for device makers is settling on standards that will be used to link meters, appliances, thermostats, security systems and other emerging home automation applications. For now, Quintana observed, metering devices tend to be connected via ZigBee, while home appliances are networked via ubiquitous Wi-Fi connections, especially in the United States.
Ultimately, what is needed is a common interface so that manufacturers can develop devices that are interoperable, Quintana said. "That's where the challenge is and I think that's one of the reasons why the market [hasn't] picked up." Uncertainty about connectivity standards even extends to established market segments like energy meters, he added.
ZigBee Alliance's Richardson acknowledged that a "bridge approach" to connectivity remains a possibility as the open standard debate continues.
Beyond connectivity issues, chipmakers are also focusing on affordability by tweaking device architectures. For example, Quintana noted that designs that include, say, a radio, microcontroller and other components, will initially prove to be too costly for many home automation suppliers and network carriers. Then, there are power consumption issues.
Renesas is currently in talks with unidentified thermostat makers and security vendors about adopting its ARM Cortex-A9 RZ series processors. It is also investing in its own connectivity technology while collaborating with the Belgian research institute IMEC to develop RF technologies that could result in new Wi-Fi solutions.
Once an interoperable network infrastructure is in place, Quintana contended, the next big question is, "What are you going to connect to?"
That depends largely on adoption rates for home automation products. One way to promote uptake of connectivity technologies is to offer add-on modules. They could include a simple driver and an application programming interface to connect with Wi-Fi, ZigBee or other connection options.
A modular approach "makes it scalable, it makes it easier for the [embedded] designer," Quintana said.
For appliance and other manufacturers, adoption may come down to "how do you justify the cost of a Wi-Fi module, for example, in a washing machine?" he conjectured. Are consumers willing to pay an additional $50 for that feature? And how do manufacturers make it easier to deploy?
Meanwhile, service providers like AT&T and Verizon are starting to demonstrate that they have the technology to enable home automation that can be controlled either by a smartphone or an in-home display.
Figuring out just what these interfaces will connect to means carriers must work closely with device makers to ensure network compatibility and interoperability. Meanwhile, manufacturers of home automation systems must ensure there is something to plug in to these networks.
In the final analysis, rolling out the network infrastructure for the smart home will be a complex integration challenge in which stakeholders must determine who will deliver which products and services. Hence, a power struggle among competing incumbents is on the horizon as the intelligent home—and perhaps a larger Internet of Things—shakes up existing business models.
Related links: