MagnaCom Ltd. (Petach-Tikvah, Israel), a one-year old startup, has developed and patented a modulation technology called WAM, standing for wave modulation, that it claims provides a number of benefits over conventional digital modulations including that it doubles bandwidth efficiency. The WAM scheme is applicable to both wired and wireless communications.
The company is claiming that the superiority of its WAM technology will end the 40-year dominance of Quadrature Amplitude Modulation (QAM), which is deployed in the majority of wired and wireless products. MagnaCom said it has been working with FPGA vendor Altera Corp. and plans to demonstrate the technology at the 2014 International Consumer Electronics Show in Las Vegas, Jan. 7 to 10.
The claims are that the modulation offers a system gain advantage of 10dB versus QAM-4096, the most advanced modulation in use today. This translates to up to 400 percent longer distance transmission, 50 percent lower power, 50 percent spectrum savings.
MagnaCom did not indicate that these are all achievable at the same time. Nonetheless, WAM also has the benefit that it is a drop in replacement for QAM and can take the same inputs and produce the same I and Q signal outputs. It requires no changes to antennas, radio or RF, the company said.
What WAM does use is so-called "spectral compression" and non-linear signal shaping on transmission. The compression allows the use of a lower order OFDM thereby reducing complexity and saving power. The non-linearities are handled digitally at the receiver.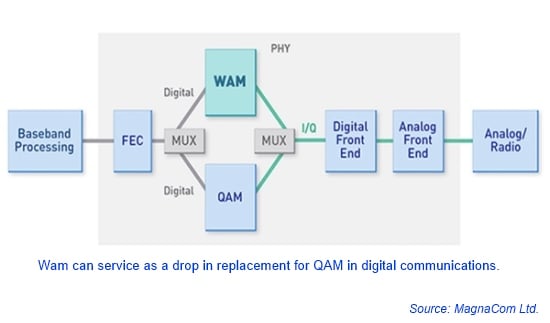 Will Strauss, president and principal analyst at Forward Concepts (Mesa, Ariz.) pointed out that WAM is required at both ends of a communications link and so the technology must be deployed initially in bounded applications, such as microwave backhaul. "It will take many years before the technology can be practical in cellular wireless," Strauss told clients in a newsletter. Nonetheless, MagnaCom quoted Strauss saying: "For many years the top communications companies have been hard at work for every 1dB of system gain, so MagnaCom's 10db gain could be truly game changing."
MagnaCom has filed over 70 patent applications globally and been granted 15 United States patents. The patents granted are all in the name of Amir Eliaz, co-founder of MagnaCom, who serves the company as chief technology officer.
With the advantage of being able to bolt on to existing interfaces on both the radio and the digital sides WAM also addresses non-linearities introduced by analog circuits while the cost impact is negligible represting cents rather dollars in silicon cost. A WAM block should occupy less than 1 square millimeter of silicon die area in a leading-edge silicon design, MagnaCom estimated. The WAM scheme scales allowing lesser benefits using a smaller demodulation block and it also scales upwards and the head room it provides over QAM should increase with more advanced silicon implementations, the company indicates on its website.
First generation implementations can be done using Altera FPGAs, and the CES demonstration board will become a reference design for the WAM technology.
The CES demonstration will be conducted by Yossi Cohen, co-founder and CEO of MagnaCom, who was general manager at Motorola Mobility until is acquisition by Google in 2012. Cohen also spent time at Broadcom and participated in its IPO in 1998.
"Just when the world has agreed that what we need is more spectrum for cellular and fiber for fixed line access, someone stumbles on a technology that gives the world back half of the spectrum it is using and preserves those and other technologies for years to come," said Peter White, principal analyst and founder at Rethink Technology Research Ltd. in a statement issued by MagnaCom.
WAM technology is available to be licensed immediately and licensed partners will be able to start developing products that help alleviate global spectrum congestion.
Related links and articles:
News articles:
Qualcomm Lobbies for LTE on Unlicensed Spectrum
M/A-COM to Buy Mindspeed Without Wireless
Intel Launches LTE Modem with Samsung Design Win