Altera has started shipping its Max 10 line of FPGAs, implemented in a 55nm manufacturing process with embedded flash, the first manifestation of its Generation 10 family of products that also include the Arria 10 and Stratix 10 lines of more capable FPGAs and system-chips.
The first of the Arria 10 line of FPGA SoCs – implemented in 20nm CMOS from TSMC – is also expected imminently, while the high-end Stratix 10 range – implemented in the 14nm FinFET process technology from Intel – is expected to tape-out in 2015 and be a late 2015 product, according to Shelly Davis, director of strategic marketing for the broad-based business unit at Altera.
The Max 10 family ranges up to 50,000 logic elements and is a dual-configuration design implemented using TSMC's 55nm embedded flash process technology. This means that two configuration files can be stored on chip for enhanced security and reliability of hardware updates. In addition the FPGAs include DSP, in the form of multiple 18bit x 18bit multipliers, analog functions such as analog-to-digital converters and temperature sensor, and embedded processing capability.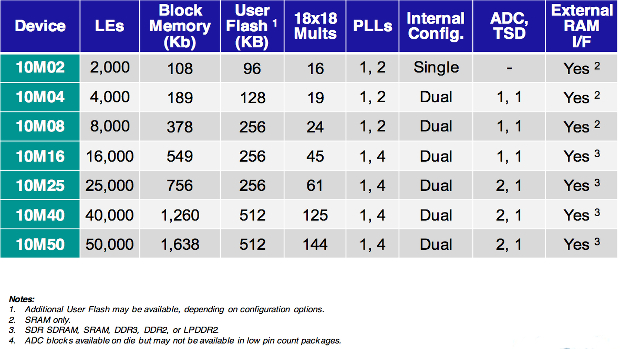 Altera's line card for its Max 10 line of FPGAs. Source: Altera.
The first chips in the family are available, supported by a software update of the Quartus II FPGA development software.
The FPGA fabric is Altera's conventional SRAM-based design but with flash memory that can support two configuration files. The configuration is loaded into SRAM at power-up, or on command in around 10ms. The on-die flash storage integrated in Max 10 FPGAs support dual configuration, allowing two FPGA designs in a single chip. The dual-configuration capability enables the device to perform fail-safe upgrades, whereby one flash block is designated for upgrade images while the other block is reserved for a "safe" factory image.
Altera also supplies the Nios II soft processor core – rather than hardware core on chip – to perform embedded processing. The 32-bit Nios II is configurable and can occupy under 5,000 logic elements.
Typical applications for the Max 10 range are expected to be in industrial, robotics, machine vision, and automotive infotainment, Altera said. The chips have DDR3 memory interfaces and up to 500 user I/O pins.
Altera is recommending the use of Max 10 FPGAs along side Enpirion power devices (see Altera Acquires SoC Maker Enpirion). Enpirion provides high-frequency switching, magnetics and packaging to produce dc-dc converter power SoCs with integrated inductors. Altera provides Enpirion power reference designs optimized for use with Max 10 FPGAs.
The MAX 10 FPGAs are available in commercial, industrial and automotive AEC-Q100 temperature grades.
"Altera is is an incumbent in these markets and well understands and complies with the safety certification processes of such as ISO 26262 and ASIL standards for automotive and to smaller extent some industrial applications. When they go after these markets, it is not a new target for them," commented Tom Hackenberg, principal analyst with IHS Technologies, the publisher of Electronics 360.
Trends towards automotive ADAS and coming safety mandates for rear-view cameras could help with design wins for flash-based chips and an FPGA alongside a main processor such as an Nvidia Tegra used a multimedia processor could provide scalability of feature sets, he said.
Hackenberg continued: "In industrial, there is a strong trend toward distributing intelligent connected control. Sensor hubs, M2M communications, more efficient and variable motor controls are all part of that trend. This solution, depending again on cost, could serve a very useful solution where a lot of channels of data are necessary."
In many cases it will come down to whether the Max 10 can overcome the traditional barriers to FPGA adoption – power consumption and cost – in any given application, said Hackenberg.
Related links and articles:
News articles:
Altera Acquires SoC Maker Enpirion