Vention, developer of the cloud-based Manufacturing Automation Platform (MAP), announced the release of remote support, allowing manufacturers to receive on-demand, high-priority automation and deployment support from Vention's Customer Success Team.
This new release is accessible through Vention's 3rd generation pendant technology, which features a double built-in camera, voice streaming, HMI screen sharing, Wi-Fi connectivity, and a powerful 13 inch touchscreen display to make remote support simple and enjoyable.
"As industrial automation is being democratized, the emerging class of practitioners are expecting the same level of customer service they receive from their favorite B2C companies," said Etienne Lacroix, CEO of Vention. "We are talking minutes to initiate a customer support intervention with full contextual awareness of the equipment hardware and software."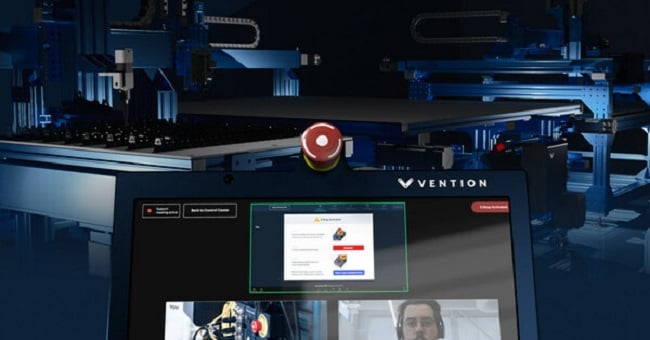 On-demand remote support and 3rd generation pendant technology. Source: CNW Group/Vention
An unparalleled service experience
As customer expectations are rapidly rising in terms of assistance, the introduction of remote support became a natural evolution of the Vention MAP. Upon initiating a support call with Vention, the customer success team will gain full awareness of the machine, from the hardware and firmware versions to real-time I/O state, to the program running on Vention's MachineMotion controller. This step ensures timely support and active user guidance can be provided efficiently by the Vention Customer Success team who consistently provides service level above 96% for response time within the promised time. With more than 16,000 equipment pieces already deployed, the company consistently achieves a world-class net promoter score above 75.
Unique features and technical advancements
Vention's newest pendant, Pendant V3, will allow manufacturers to benefit from Remote Support experience:
Connect to Vention's Customer Success Team in under 10 minutes for unlimited troubleshooting and fast issue resolution.
Utilize built-in front and back-facing cameras, Wi-Fi connectivity, pendant 13 inches/HMI screen sharing, voice streaming, chat functionality and a powerful touchscreen display.
Allow Vention's Customer Success Team access to the customer's detailed machine configuration and program to implement instant changes.
Reduce equipment downtime, upkeep costs and servicing lead time while improving productivity with efficient troubleshooting and issue resolution.
Remote support will be unveiled and showcased live at the Automate Show in Detroit, Michigan, from May 22 to May 25. Visit Vention's booth #4818 to see remote support in action and experience world-class remote support from the team democratizing industrial automation.