Austin, Texas-based Sisu, a developer of electromechanical machines and robotic automation, has devised a quick, simple technology to program almost any industrial robot. No robot programming expertise is needed to use the patent-pending Vudu system.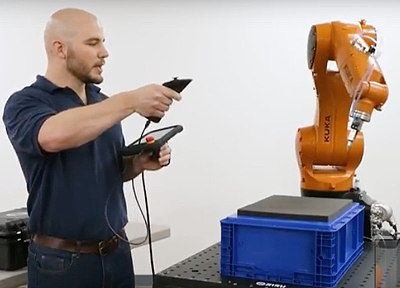 Source: SisuProgramming is accomplished with a combination of a touchscreen pendant and a handheld joystick that translates and rotates the robot's end-effector in six degrees of freedom. The joystick user to pushes, pulls or rotates the end-effector into any position without touching the robot. The robot's frame of reference adjusts constantly to the position of the user both during large positioning movements and during fine adjustments. Unlike conventional robot pendant controls, the user does not need to guess which way the robot will move when a button is pressed.
Programs can also be written visually via the touchscreen pendant, using an intuitive tree structure with point-to-point moves, path moves, I/O operations and logic structures.
Vudu will be launched commercially in early 2019.