Supporting up to 64 interpolated axes, the softMC 703 compact controller from Servotronix Motion Control delivers high-performance motion control capabilities to robots, drives and motors via any major OEM programmable logic controller (PLC).
When integrated with the stepIM integrated closed loop stepper CDHD2 servo drive and PRHD2 servo motor, the softMC 703 controller creates a complete and cost-effective motion control solution for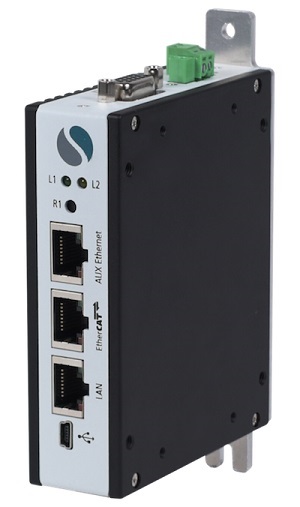 Source: Servotronix Motion Controldynamic applications in industrial automation.
The softMC 703 controller provides Industry 4.0 machine-to-machine communication while reducing the overall cost of motion control system design and configuration. Its extensive programming options mean designers can create flexible motion programs with support for preemptive multitasking and asynchronous event response. The softMC 703 includes an open, real-time programming language, C/C++, and the robot operating system (ROS). The controller also features ControlStudio, a Windows–based integrated program development environment.
Equipped with three RJ45 connectors – LAN, EtherCAT and auxiliary for devices such as HMI or teach pendant – the controller eliminates the need for switching. The controller comes with a micro-USB port, two serial RS485 ports, a DIN rail mounting bracket and a book mounting bracket.
While the softMC 703 supports up to 64 interpolated axes, the controller can support additional axes upon request to STXI Motion. The device works with standard robot types, including DELTA, PUMA and SCARA, as well as nonstandard robotic kinematics such as traverse and scissor robot types.