Carlo Gavazzi is excited to introduce the new SPDE power supply series, ultra-compact single-phase DIN-rail power supplies designed for electrical panels. The SPDE series consists of three frame sizes, starting from 75 W with 32 mm width, through a 480 W device with 48 mm width. Their ultra-compact housing design allows them to save up to 50% panel space, making them ideal for applications where space is limited.
The high quality of the SPDE is certified by a series of industry approvals: CE, UKCA, UL61010 and UL62368.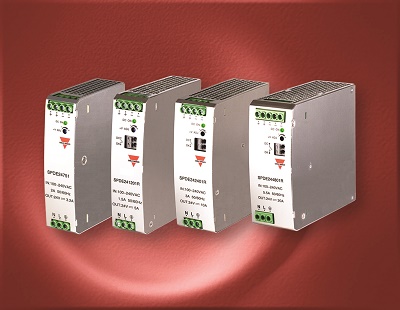 Source: Carlo Gavazzi Integrated diagnostic and protection functions such as output short circuit, over current, over voltage and over temperature provide the user with maximum output protection.
Main technical features include:
Universal input voltage range: 90 V AC to 264 V AC; 120 V DC to 370 V DC
Output voltage range 12 V DC, 24 V DC or 48 V DC
Maximum output power ranges from 75 W to 480 W
Ultra-compact dimension
Built-in active power factor correction for higher efficiency (only in SPDE..R models)
DC OK relay indication (only in SPDE..R models)
Efficiency up to 94%
Overvoltage category II
These power supplies are optimally suited for applications where space savings, high efficiency and wide operating temperatures are required.