Artesyn Embedded Technologies today announced a cost-effective addition to its ADNB series DIN rail power supply, available in ratings of 40, 60 and 96 W. The supply is suited for applications such as machine control, semiconductor fabrication, conveyor/material handling, process control, test and measurement equipment, and vending/gaming machines.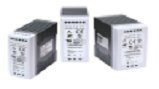 Artesyn's ADNB DIN rail power supply. Source: Artesyn Embedded Technologies

A universal 88 to 264 Vac input and global safety approvals enable the ADNB series to be used almost anywhere in the world. The units are also capable of operating from a 124 to 370 Vdc Input. The supplies offer precisely regulated output voltages of 12, 15, 24 and 48 Vdc. Typical efficiency is 84 to 88 percent, and the units can operate in temperatures up to 70° C. A DIN rail mounting clip enables tool-free snap-on mounting specially designed for industrial environments.

The supply is protected against overvoltage, over load and short-circuit conditions, and offers protection against brownout or drop in voltage.