Qorvo, a provider of innovative radio frequency solutions that connect the world, has unveiled the QPA3908 and QPA3810, two gallium nitride (GaN) 8 W power amplifier modules (PAMs) that offer a combination of high performance and a significantly smaller footprint than traditional discrete component solutions, reducing the board level footprint required by network infrastructure equipment manufacturers. These products target applications such as massive multiple-input multiple-output (MIMO) base stations and open radio access networks (O-RANs) for active antenna systems.
The QPA3908 and QPA3810 products are integrated two-stage PAMs designed for massive MIMO applications with 8 W RMS at the device output. The QPA3908 has an operating frequency range of 3.7 GHz to 3.98 GHz, supporting US C-band applications. The QPA3810 has an operating frequency range of 3.4 GHz to 3.8 GHz, supporting applications in European markets. Both modules are input/output matched at 50 Ω and require minimal external components.
NEC Corporation has partnered with Qorvo to implement the QPA3908 and QPA3810 PAMs to deliver the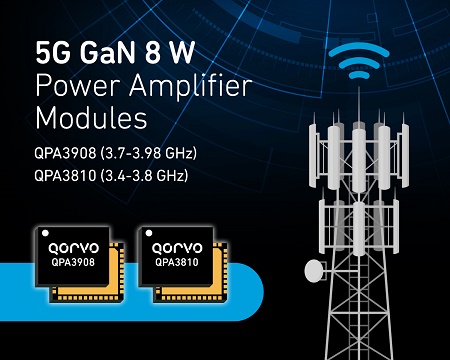 Source: Qorvo most advanced 5G end-to-end O-RAN network.
Diwakar Vishakhadatta, general manager of Qorvo's infrastructure business, said, "Qorvo's GaN solutions for 5G are a means to minimize cost and increase capacity. These two GaN powered modules support the growth of 5G rollouts in the U.S. and Europe with greater integration at the board level, and reduced complexity. Our focus is on efficiency and linearity for our customer partners."
The QPA3908 and QPA3810 each incorporate a driver PA and Doherty final stage delivering high power-added efficiency for the entire module at 8 W average power. The modules are input and output matched components providing superior performance and are completely assembled with no additional tuning necessary. These single-tuned modules simplify 5G network architecture and reduce design time, offering a more elegant solution than multiple discrete PAs.
Qorvo's QPA3908 and QPA3810 PAMs are available now and are ramping up to support key customer 5G deployments for North America. Connect with Qorvo at the International Microwave Symposium (IMS2022), June 21 through June 23 in Denver, Colorado.