Radio frequency (RF) solutions provider Qorvo has introduced a gallium nitride power amplifier (PA) that delivers a 50% increase in power for improved range, performance and multi-target tracking in S-band (2 to 4 GHz) phased array radars.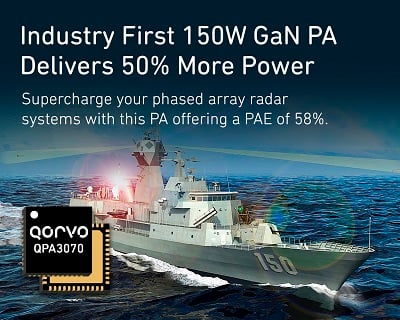 Source: QorvoThe Qorvo QPA3070 leapfrogs existing industry offerings, providing a first-ever 150 W of power for the 2.9 to 3.5 GHz frequency range, 58% power added efficiency (PAE) and 28 dB power gain. These achievements are possible through Qorvo's ultra-reliable and highly efficient GaN on silicon carbide (GaN-on-SiC) process technology, which offers superior efficiency, power density and affordability.
The PA delivers these features in a small and cost-effective surface-mount package. It enables engineers to design higher power radar solutions with significant size, weight, power and cost (SWAP-C) improvements — and bring them to market faster.
The company's GaN-on-SiC products deliver high power density, reduced size, excellent gain, high reliability and process maturity. Qorvo, the only supplier to achieve a Manufacturing Readiness Level 10 (MRL 10) rating from the U.S. Department of Defense, supplies RF products and compound semiconductor foundry services to defense primes and other global defense and aerospace customers.