Qorvo has introduced a family of high-performance low noise amplifiers (LNAs) tailored for base station infrastructure deployments including 5G massive multiple-input and multiple-output (m-MIMO). Qorvo's newest family of LNAs combines the lowest noise figure in the industry – 0.3 dB achieved at 2 GHz – with unmatched reliability and scalability in a very compact footprint.
The flagship QPL9547 LNA utilizes Qorvo's latest generation enhancement-mode pseudomorphic High Electron Mobility Transistor (pHEMT) process to provide market-leading noise figure and improved receiver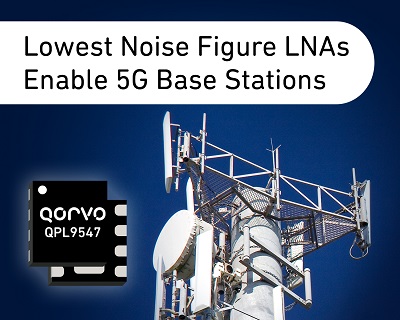 Source: Qorvosensitivity for cellular base stations. This LNA is internally matched and is available in a compact, 2 mm x 2 mm package to provide space savings for system designers. Additional LNAs in the product family such as the QPL9057, QPL9058 and QPL9504 are optimized to provide high gain and disable pins required for 5G wireless infrastructure.
Joe Madden, chief analyst at Mobile Experts Inc., said, "In 5G networks, the uplink is the limiting factor, and massive MIMO makes the uplink even more critical. A combination of low noise figure and high dynamic range is the key to maximizing the coverage of a 5G network. We expect the market to require large numbers of this type of LNA, as massive MIMO ramps up worldwide."
The QPL9547, QPL9057, QPL9058 and QPL9504 are in production now and are available for immediate delivery.