Radio frequency (RF) solutions provider Qorvo has introduced the industry's highest-power gallium nitride (GaN) monolithic microwave integrated circuit power amplifier (PA) that delivers up to 100 W of saturated power in a small, 7 mm x 7 mm quad-flat no-leads package.
The PA is internally matched and requires no additional external RF components, enabling designers and system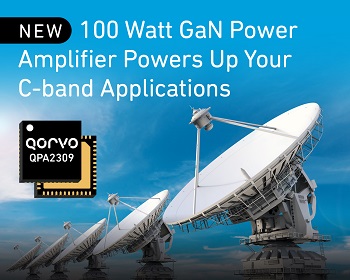 Source: Qorvo integrators to maximize design by reducing size and weight while offering better performance. The integrated surface mount technology package design enables customers to manufacture at a lower cost compared to die or bolt-down flange package alternatives.
The Qorvo QPA2309, built on the company's patented QGaN25HV wafer process, operates between 5-6 GHz (C-band) and delivers an industry-best power added efficiency (PAE) of 52%. This GaN PA provides defense radar customers with two times higher saturated power, higher large signal gain and improved PAE in the same package size as the previous generation product. Qorvo also offers customers the option of a 50 W version (QPA2310) in the same package configuration.