After months of speculation regarding Intel's plans for semiconductor manufacturing in Europe, the chip giant unveiled its plans including spending some $87 billion over the next decade on fabs and R&D.
In its first phase, Intel plans to invest $18.6 billion into a leading-edge semiconductor mega-site in Magdeburg, Germany. It will also create a new R&D and design hub in France and will invest in R&D, manufacturing and foundry services in Ireland, Italy, Poland and Spain.
Intel said the investment will bring the most advanced technology to Europe.
"Our planned investments are a major step both for Intel and for Europe," said Pat Gelsinger, CEO of Intel. "The EU Chips Act will empower private companies and governments to work together to drastically advance Europe's position in the semiconductor sector. This broad initiative will boost Europe's R&D innovation and bring leading-edge manufacturing to the region for the benefit of our customers and partners around the world. We are committed to playing an essential role in shaping Europe's digital future for decades to come."
Intel's ambition
Intel is operating on two fronts as it moves forward with its semiconductor manufacturing ambition.
First, it wants to expand chip manufacturing beyond the aggregation of the technology currently held mostly in Taiwan, Korea and China. Second, it wants to expand its own technology portfolio for automotive semiconductors, a sector that has been significantly impacted by the ongoing chip shortage.
The company is expanding its depth of manufacturing to include new fabs in North America — two in Arizona and two in Ohio — as well as expanding into the foundry business.
After creating Intel Foundry Services and signing up Qualcomm and Amazon as its first customers, Intel is to acquire Tower Semiconductor, an Israeli pure play foundry that has lower processing nodes than Intel's current and future state-of-the-art facilities.
The goal is not only to provide fabless chip firms in Europe and North America with an alternative to the leading foundries in Taiwan, such as Taiwan Semiconductor Manufacturing Co. (TSMC), and in Korea, like Samsung Electronics, but to expand its own breadth of automotive capabilities.
Tower's fabs are a good fit for producing chips for the automotive sector as many of these chips are manufactured using lower processing nodes. This will give vendors more options for Intel to provide capacity to automotive chipmakers.
Government action
One of the tipping points for Intel's European plan may have been the announcement of the European Chips Act, which would provide somewhere close to $50 billion to entice manufacturers to build new semiconductor factories in the region and give these companies subsidies.
The act is similar to the Creating Helpful Incentives to Produce Semiconductors (CHIPS) for America Act, which would provide more than $50 billion for similar efforts in the U.S. The CHIPS for America Act has been passed by both houses of Congress but a new iteration must be agreed upon before it is sent to President Joe Biden for signature and implementation.
Government incentives have been a focal point of the Semiconductor Industry Association (SIA), a trade organization representing 99% of the top semiconductor firms in the U.S. by revenue. The SIA said that one of the reasons semiconductor manufacturing has fallen off in the U.S., down to 12% globally, has been due to foreign governments in Asia offering incentives and subsidies to companies for building new fabs.
If this same investment is supported elsewhere, semiconductor manufacturing aggregation is less likely to be an issue moving forward with the supply chain spread out among many different regions.
Intel said it wants to grow U.S. chip manufacturing to at least one-third of the global supply in the next decade.
Magdeburg fabs
As part of the initial phase of Intel's European plan, two state-of-the-art fabs will be built in Magdeburg, Germany, the capital of Saxony-Anhalt.
Construction for the fabs is expected to begin in the first half of 2023 with production planned to come online in 2027. These fabs will deliver chips using Intel's most advanced Angstrom-era transistor technologies and serve both foundry customers and Intel for Europe.
The Magdeburg site will be known as Silicon Junction and will create 7,000 construction jobs over the build and 3,000 permanent high-tech jobs at Intel as well as tens of thousands of additional jobs across suppliers and partners.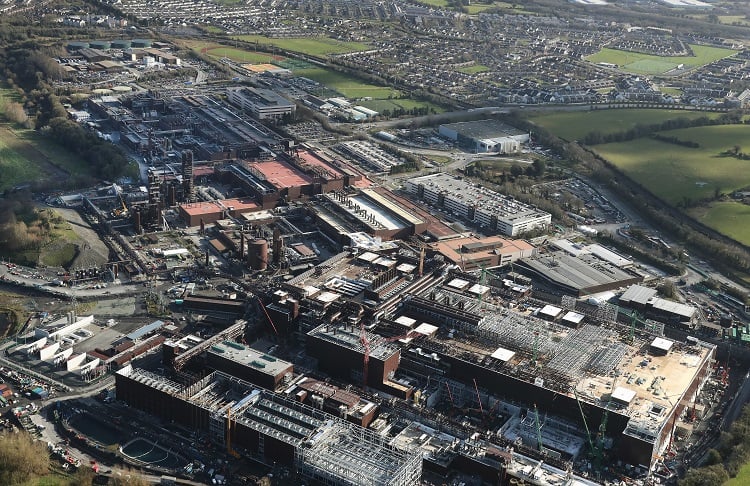 Intel is spending some $13 billion to expand its Leixlip, Ireland, facility to bring Intel 4 process technology to the fab and expand foundry services. Source: Intel
Italy and Ireland
Intel plans to spend an additional $13 billion to double the manufacturing space at its Leixlip, Ireland, facility to bring Intel 4 process technology to the fab and expand foundry services. Once completed, Intel will have invested a total of $32.8 billion at the Ireland location.
In Italy, Intel has entered into negotiations with the country to enable a state-of-the-art back-end manufacturing facility to be built in a $4.9 billion investment.
This factory will create about 1,500 Intel jobs plus an additional 3,500 supplemental jobs. If approved, the facility will start operations between 2025 and 2027. This will also be in addition to the foundry and growth opportunities Intel is pursuing in Italy based on its Tower acquisition, the company said.
France hub
In the Plateau de Saclay, France region, Intel plans to build a new European R&D hub for high performance computing (HPC) and artificial intelligence design capabilities.
When completed, the hub will support 1,000 new high-tech jobs at Intel with 450 of these jobs available by the end of 2024. The hub will focus on industry sectors such as automotive, agriculture, climate, drug discovery, energy, genomics, life sciences and security.
In Poland, Intel will increase its lab space by 50% with a focus on developing solutions for deep neural networks, audio, graphics, data center and cloud computing. The expansion is expected to be completed in 2023.
Intel will power its global manufacturing operations with 100% renewable energy and achieve zero total waste to landfills.