Design and validation solutions provider Keysight Technologies is aiming at small manufacturing businesses and university teaching labs with its recent introduction of the Smart Bench Essentials (SBE) lab bench, a portfolio of products that delivers the power of four instruments through a single graphical interface.
The portfolio is comprised of a triple-output power supply, an arbitrary function generator, a digital multimeter and an oscilloscope. As illustrated in a YouTube video, the four SBE instruments are designed to function together as a complete lab test bench solution. Benefits include a compact and stackable design with a consistent look and feel, along with a connected interface providing integrated data management and analysis capabilities.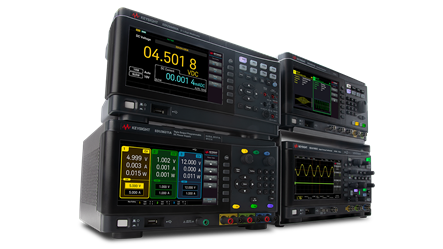 The four instruments in the Smart Bench Essentials suite of products are designed to function together as a complete lab test bench solution. Source: Keysight TechnologiesThe SBE suite is designed to work with Keysight's PathWave BenchVue software for instrument configuration, PC data storage and export into standard readable formats for post-analysis work and report generation. The software enables users to quickly create automated test sequences with minimal instrument knowledge.
For university settings, Keysight has also taken into account the increased importance of remote learning in the wake of the COVID-19 pandemic by offering two optional paths for SBE access and control. The PathWave Lab Operation for Remote Learning enables features such as web-based lab management and real-time group collaboration, allowing access for up to 50 concurrent users. The PathWave BenchVue Lab Management and Control Solution allows interconnection of all instruments via local area network (LAN) or wireless local area network (WLAN), with a configurable layout interface supporting up to 100 test benches and all types of test instruments — including non-Keysight instruments.
Specific products and features of the SBE series are:
EDU33210A Series Function Generator
Frequency range up to 20 MHz
Single- or dual-channel function generators
Six built-in modulation types
17 waveforms to simulate typical testing applications
16-bit arbitrary waveform capacity
EDU36311A Triple-Output DC Power Supply
Total 90 W power
Two electrically isolated channels of 30 V/1 A
One electrically isolated channel of 6 V/5 A
Over-voltage, over-current and over-temperature protection
5.5 digit resolution
Up to 110 readings per second for speed-critical tests
Internal memory for logging up to 5,000 data points
EDUX1052A/G Dual-Channel Oscilloscope
50 MHz Bandwidth
InfiniiVision measurement technology
Built-in 20-MHz function generator
The SBE series is a combination of hardware and software designed by Keysight to enhance the teaching experience of educators and the learning experience of students, while also allowing engineers to put greater focus on their insights and innovation.