Engineers using PXI will want to take note of a new product release from Pickering Interfaces. According to the company, its 40/42-588 modules offer the industry's highest bandwidth general purpose PXI matrix.
PXI is a modular electronic instrumentation platform that can be used to build electronic test equipment, modular laboratory instruments and automation systems. Its flexibility comes from its basis in industry-standard Peripheral Component Interconnect (PCI) computer buses; standards compliance and system interoperability are ensured by the PXI System Alliance (PXISA), an industry consortium for which Pickering is a sponsoring member.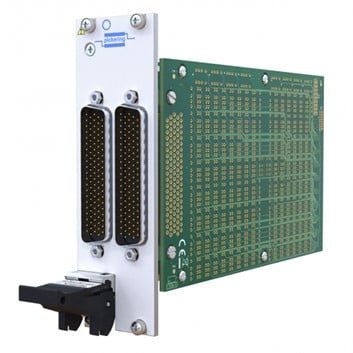 Pickering's PXI high-density matrix module, seen in 32x8 2-pole configuration. Source: Pickering InterfacesThe new modules are available in high-density 16x8 or 32x8 2-pole switching configurations, offering bandwidths ranging from 35 MHz to 70 MHz depending upon path selected and a voltage standing wave ratio <1.5:1 to 85 MHz. Model 40-588 features a two-slot PXI format, while model 42-588 offers a PXI Express (PXIe) format. Pickering's knowledge base includes an explanation of the PXI versus PXIe difference.
The 40/42-588 matrix is formed from two 16x8 matrix daughter cards with Y-connections linked via an internal analog bus, a design intended to minimize the cost and complexity of interconnecting cable assemblies. The 40/42-588 daughter cards are fitted with isolation switches between the matrix Y-bus and the interconnecting analog bus to ensure that only the required Y signal is routed to the front panel connector, thus helping to preserve bandwidth and crosstalk performance.
The modules are part of Pickering's VXI to PXI replacement program, offering electrically compatible replacement of another vendor's legacy switching product. They can be used to upgrade legacy systems, or for deployment in new automated test equipment (ATE) designs in demanding automotive and defense applications.
Pickering notes that the new modules are constructed using telecommunication-grade electromechanical relays capable of hot or cold switching up to 2 A at 220 V DC/250 V AC. Every signal has an accompanying analog ground connection on the front-panel connectors for interfacing with cabling accessories. Simple matrix expansion is facilitated by two groups of front panel Y-axis connections on the 32x8 variant.
The 40/42-588 modules are supported by Pickering's eBIRST switching system test tools. Like all Pickering's products, they carry a three-year warranty, and come with spare relays that allows trained customers to do repairs on-site, minimizing system downtime. A range of interconnect accessories are also available to support the 40/42-588 family.
Key features are summarized below:
Available as a PXI module (model 40-588) or PXIe module (model 42-588)
High-density in two-slot format
Maximum current 2A hot or cold switching
Switch up to 220 V DC/250 V AC
Bandwidth up to 70 MHz
Automatic isolation switching
VISA, IVI and kernel drivers supplied for Windows
PXI version supported by PXI or LXI chassis
PXIe version supported by PXI hybrid or PXIe chassis
Supported by Pickering's eBIRST switching system test tools
3-year warranty