Through its recent introduction of 1000Base-T1 PXI and PXIe fault insertion switching modules, Pickering Interfaces has expanded its range of supported protocols for its electronic test and verification solutions.
The 1000Base-T1 Ethernet specification was initially developed for the automotive market, as Pickering switching product manager Steve Edwards explained in a press release. Modern automobiles, Edwards said, required the minimal weight of a single differential pair cable capable of high data rates. The standard has also been adopted for use in industrial control and building infrastructure Ethernet installations.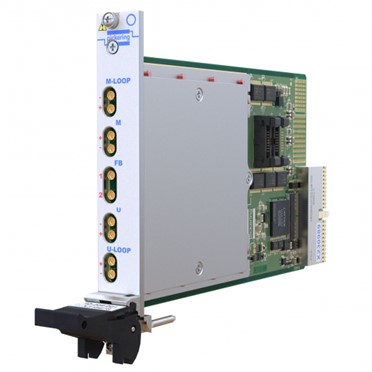 This 40-204 PXI module is designed to simulate common faults on high-speed two-wire communication interfaces such as 1000Base-T1. Source: Pickering Interfaces Ltd.With fault insertion, a user can simulate cable breaks in one or both conductors in a differential pair. Fault bus connections also allow the application of power rails such as ground or battery, and the injection of other signals or a short-circuit condition.
The new 40/42-203 and 40/42-204 modules are compact, single-slot devices designed to deliver high performance. They provide switching to 200 V and 0.8 A with typical differential bandwidths of 1.6 GHz and 700 MHz, respectively, to offer suitable overhead from the 1000Base-T1 specification. The modules feature PXI or PXIe control interface, enabling flexibility in chassis selection. In addition, the 40/42-204 module offers a new feature to the Pickering fault insertion range: the ability to route the differential pair to and from external pieces of test equipment.
Two fault bus connections and various channel counts are offered. The 40-203 (PXI) and 42-203 (PXIe) units permit fault insertion on up to six channels of two-wire connections, using reed relays designed for high-frequency applications. Based on electromechanical relays, the dual MUX 40-204 (PXI) and 42-204 (PXIe) modules provide fault insertion on one or two channels of two-wire connections. Both models offer 100 Ω controlled transmission line impedance signal paths.
For smaller test applications, both versions offer partially populated options for flexibility, with the 40/42-203 available with three channels and the 40/42-204 as a single channel. If the testing requirements increase, the fully populated modules double the channel count to six and two, respectively, in the same single-chassis slot footprint.
Pickering noted that there are multiple vendors of connector systems designed for 1000Base-T1 applications, adding that the industry does not standardize on a particular series. Its connector division addresses this by offering custom adapters to convert from module front panel MMCX connectors to the 1000Base-T1 connector interface. For more information, visit Pickering Connect.