Drone operations company ANRA Technologies has joined the Care & Equity Healthcare Logistics UAS Scotland (CAELUS) project in development to become the first national distribution network in the U.K. using drones to transport medical items via drones.
The CAELUS project began late last year and will involve live drone flight trials to transport essential medicines, blood, organs and other healthcare supplies through Scotland. The project will develop ground infrastructure that will be needed to recharge the drones and systems to control the unmanned aerial systems (UAS) while flying.
The project includes 13 organizations and is being developed to demonstrate how autonomous drones can enhance the healthcare system, particularly in rural parts in Scotland. These organizations include NATS Limited, AGS Airports Limited, Schneider Electric, Atkins, Avy, The Drone Office, Connected Places Catapult, Trax International, uAvionix, Leonardo, the University of Strathclyde, Dronamics and ANRA.
ANRA will lead the architectural framework for the logistics network and the system-to-system digital demonstrator using its SmartSkies software platforms for airspace management using UAS. This framework will feature digital representations of UAS, UAS traffic management simulator, energy system infrastructure, fleet management and medical order fulfilment software.
ANRA said this project will focus not just on hardware but will also include the infrastructure and software needed for the project to advance drone-enabled delivery. A digital blueprint of the drone delivery network will be created with the potential to connect hospitals, pathology labs, distribution centers and GP surgeries across Scotland. The project is scheduled to run through the spring of 2022.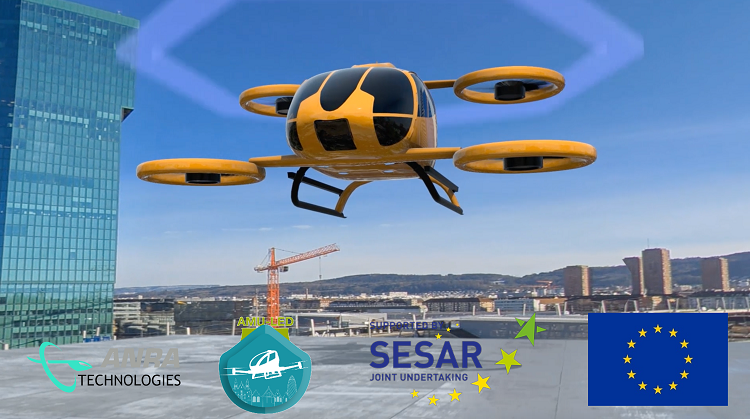 The AMU-LED project's goal is to demonstrate safe integration of air taxis and cargo drones across Europe. Source: ANRA
Meanwhile, ANRA will also participate in the Air Mobility Urban-Large Experimental Demonstrations (AMU-LED ) project that will involve 17 companies, organizations and municipalities aimed at demonstrating the safe integration of all types of drone operations in urban environments including air taxis, cargo delivery drones and UAS for emergencies.
The project is expected to span the next two years starting with testing and simulations with more than 100 hours of air vehicle flight tests over the Netherlands, Spain and the U.K. The goal of the tests will explore and demonstrate how to decongest roads, improve transportation of people and goods, reduce travel times, increase flexibility, cut pollution and reduce traffic accidents.
ANRA will again provide its SmartSkies family to support simulated and live electric vertical takeoff and landing (eVTOL) operations including cargo and passenger transportation, delivery of goods and medical supplies, infrastructure inspection, law enforcement operations and emergency services support.
The 17 companies included in the AMU-LED project include air taxi and aerospace vendors EHang, Boeing and Airbus as well as drone technology companies AirHub, Altitude Angel, Jeppersen, Tecnalia and Gemeente Amsterdam.