Atari, the original innovator of video gaming, founded in 1972, and one of the world's most recognized producers of interactive entertainment, is making a comeback. But don't get too excited—no games or consoles will be released this time. Instead the company is taking a dive into the 21st century by teaming up with SIGFOX, the world's leading provider of dedicated communications service for the Internet of Things (IoT), to develop a line of new connected devices based on Atari's brand.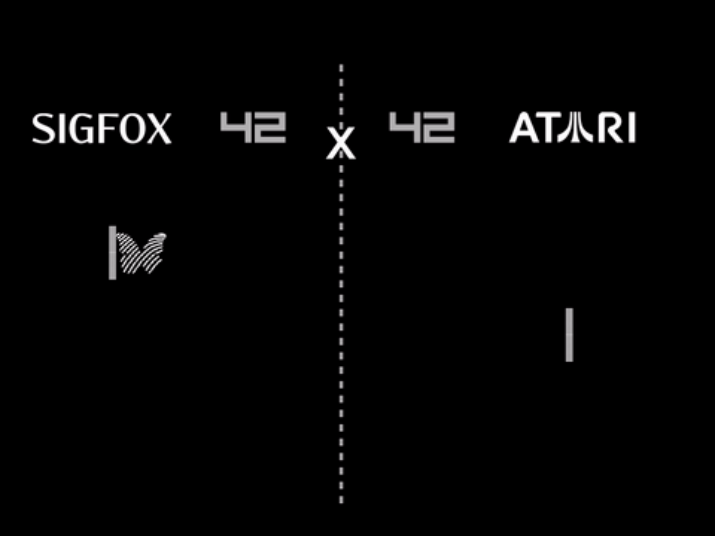 Atari_SIGFOX (Image Credit: Atari/Facebook/Giphy)The collaboration will join the Atari brand with the creative power of SIGFOX to connect the physical world to the Internet through a simple, reliable, low-cost, energy-efficient solution.
"Atari, which has disruption rooted in their DNA, was quick to envision the transformative role that the Internet of Things can play in interactive entertainment," said Ludovic Le Moan, SIGFOX CEO. "Our network bridges the virtual and physical worlds simply, reliably and inexpensively, and this collaboration will launch a new dimension to gaming, while supporting features that are limited only by the imagination."
SIGFOX currently operates in 18 countries and has registered over seven million devices in its network.
A variety of new Atari products, ranging from very simple to highly sophisticated, will be released, providing customers with an easy way to know where their devices are and their status. The initial product line will include categories such as home, pets, lifestyle and safety.
Once connected to SIGFOX's global network, the products will benefit from the company's long battery life and immediate network connection once the battery is inserted into an object. SIGFOX's solution is simple and does not require local Internet connectivity and pairing.
"SIGFOX is transforming the way people are connecting to their objects in a simple and intuitive way. By partnering together and using SIGFOX's dedicated IoT connectivity, we are going to create amazing products with our brand," said Fred Chesnais, Chief Executive Officer of Atari. "We look forward to our collaboration with SIGFOX and releasing new products to the mass market on a global scale."
New products will begin development this year, and the company will reveal more details soon.