(Editor's note: This is part one of a two-part series examining the push to increase U.S.-based chip manufacturing.)
Decades ago, the United States was a leader in semiconductor manufacturing with several U.S.-based companies owning and operating factories to service the country and global manufacturers.
However, as foreign governments began to prioritize chip manufacturing as a strategic priority — giving grants to build fabs or offer cheap construction, labor and operating expenses — U.S. domestic semiconductor manufacturing faltered.
While chip manufacturing still exists in the U.S., the industry has shifted substantially to overseas markets —particularly to those in Taiwan, China and South Korea. Still, semiconductors remain a foundation to America's national economy. In fact, U.S. companies dominate the semiconductor market including leading-edge chips for microprocessors, memory and analog. But as the U.S. has kept pace with chip design, chip manufacturing in the U.S. has not.
Now, a renewed call for domestic semiconductor manufacturing in the U.S. is growing, spearheaded by industry organizations, semiconductor companies and even the U.S. government as recent events related to COVID-19 and geopolitical incidents have demonstrated significant concerns about large production sites remaining in a single region.
"There is a realization that competition in the global semiconductor marketplace is fierce and the U.S. risks falling behind in an industry it once dominated," said Jeff Rittener, chief government affairs officer at Intel Corp. "Semiconductors are the foundation of our digital economy and all future technology breakthroughs. We must maintain our advantage in this industry to ensure our government and domestic businesses continue to have the access to cutting edge technology that they need."
Pandemic rising
The outbreak of the COVID-19 pandemic shook the world. And semiconductor manufacturing was not immune. Due to stay-at-home orders and the introduction of social distancing mandates, the semiconductor supply chain was heavily impacted, causing shortages and delays to manufacturing globally.
Over the decades, the center for semiconductor manufacturing and electronic device design center has shifted from Japan in the 1980s, to South Korea in the 1990s, to Taiwan and China currently. This aggregation of manufacturing was exposed during COVID-19, raising further alarms and revealing critical vulnerabilities in the supply chain.
"After the pandemic hit, it opened the eyes of many companies that we as a nation need to have a more resilient supply chain," said Jimmy Goodrich, vice president of global policy at the Semiconductor Industry Association (SIA), a trade organization that lobbies for the U.S. semiconductor industry. "While the pandemic was a near-term catalyst, a longer-term catalyst is that if the U.S. wants to keep pace with China, it has to invest in the coming decades."
A recent study by the University of Birmingham, found that global supply chains must redesign and reform in the wake of COVID-19 to numerous smaller facilities around the world to reduce business risk. As this pertains to the foundational technology of semiconductor production, COVID-19 has accelerated the push to bring chipmaking back to American soil and served as a wake-up call for the U.S. to act, said Ezra Hall, director of aerospace and defense business line at Globalfoundries, a U.S.-based pure play foundry.
"It is critical that the U.S. keep pace with the rest of the world in domestic supply of semiconductors, both in terms of national security and continued economic leadership," Hall said. "COVID-19 demonstrated how paramount digital connectivity is to humankind's very existence. Semiconductors are at the heart of this connectivity, and the demand for semiconductors is increasing now and is only going to increase in the coming years and decades."
While increasing domestic semiconductor manufacturing was a priority even if the pandemic did not happen, the outbreak showed the risks of being dependent on limited, overseas suppliers of critical products and technologies, said Rittener.
"Today, 80% of semiconductor manufacturing is in Asia, according to the Semiconductor Industry Association," Rittener added. "It's important that the U.S. take steps to maintain a level playing field so that it continues to have a robust domestic semiconductor industry."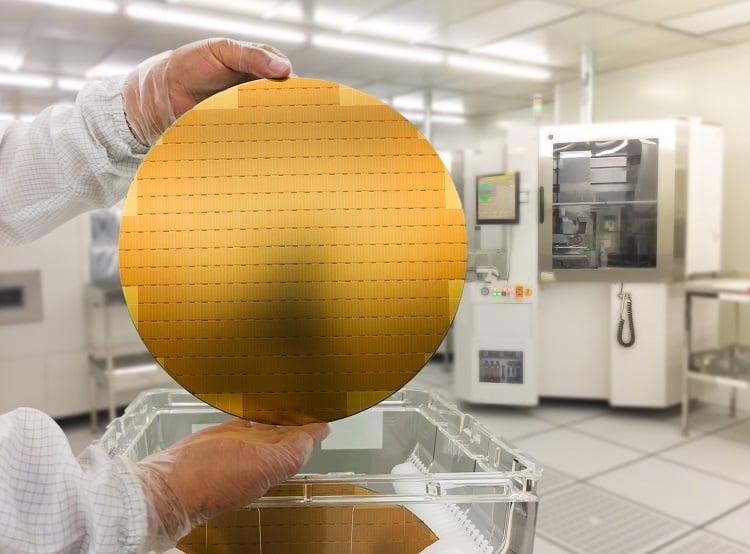 The U.S. currently has no fabs capable of manufacturing 5 nm advanced semiconductors but that will change when TSMC builds its fab in Arizona. Source: AdobeStock
A matter of national security
Talks of increasing domestic U.S. chip manufacturing have been lobbied for decades. But after the U.S. effectively blacklisted Chinese networking equipment maker Huawei from domestic 5G deployments and the Trump Administration's imposed stricter trade measures with China in 2019, the geopolitical forces brought increased awareness to the semiconductor industry.
"Our industry suddenly became a focal point for industrial, commercial and foreign relation policies of governments around the world," Hall said.
This spotlight helped to expose not just supply chain strengths but also the vulnerabilities around the world of having all the electronic eggs in one basket. It became the view of many in the U.S. that semiconductors were considered a national security priority because of the powerful role they play in infrastructure — from internet and 5G wireless technology, to industrial automation, consumer electronics, and aerospace and military applications, Hall said.
While no one is calling for everything to move back to the U.S., currently the country does not have a leading-edge foundry for producing semiconductors at the 5 nm node, Goodrich said. If there is not a source onshore for this and other levels of advanced chip manufacturing, it could become an issue, he added.
According to Tom Sparkman, CEO of Spin Memory, a U.S.-based developer of magnetic random access memory (MRAM), an emerging memory technology that uses electron spin to store information, the trade tension with China is making the idea of a U.S.-manufactured memory and chip technology more attractive.
"If China decided to make a strategic move on TSMC, it could effectively cut off a majority of the U.S.'s supply of chips," Sparkman said. "As chips are the major driver of technological innovation these days, this makes semiconductors a strategic resource for the U.S."
However, a solution to these issues may already be in motion as Taiwan Semiconductor Manufacturing Corp. (TSMC) earlier this year announced plans to build a state-of-the-art 5 nm wafer fabrication facility in Arizona capable of producing 20,000 wafers per month and creating more than 1,600 jobs directly and thousands of indirect jobs. The facility will be only two of its kind in the world capable of producing this type of semiconductor wafer.
While there is still work to do, this is a good step toward the goal of growing domestic manufacturing and the SIA said it has seen significant interest in the industry including recent legislation for investment in semiconductor manufacturing that could help even the playing field against Taiwan, China and Korea.
Building awareness
According to Intel's Rittener, industry experts are working to educate policy makers about the cost of semiconductor manufacturing, the global competitive environment and the benefits to high-tech manufacturing.
Intel said that it has more than 53,000 employees in high-tech jobs in the U.S. In a recent economic impact study, it found that for every Intel job in the U.S., an additional 13 American jobs are supported. High tech factories typically act as magnets for attracting additional investment and businesses nationwide leading to more jobs and more economic impact.
Three of Intel's six wafer fabrication facilities are in the U.S. in Arizona, New Mexico and Oregon and the company plans to add manufacturing capacity across the U.S.
Globalfoundries' has one 300 mm wafer fab in the U.S. that is capable of manufacturing 14 nm node technology with a maximum manufacturing capacity of 60,000 wafers per month. While Globalfoundries planned to develop 7 nm production lines at this facility, in 2018 suspended the expansion citing unaffordable costs but held open the possibility of resuming 7 nm operations in the future.
Last year, Globalfoundries signed an agreement to sell its 300 mm East Fishkill, New York, facility to On Semiconductor in a deal expected to take place through 2022. In June, Globalfoundries purchased 66 acres of undeveloped land adjacent to its Fab 8 facility with the goal to increase the footprint of the facility for future development to support growing client and government technology development needs.
"Investment in U.S.-based semiconductor R&D and manufacturing is more important than ever to accelerate expansion of GF's technologies and related capabilities, and to position our U.S. manufacturing facilities in New York and Vermont for future growth, while creating additional high-paying advanced manufacturing jobs," Hall said.
This was echoed by the SIA in a call for future investments in R&D in the U.S. in the form of grants and funding to universities for research and partnerships with labs for future technologies. Intel alone currently invests $10 billion a year in R&D but that is not enough for the future of the semiconductor industry.
"If we want to stay ahead, we want to innovate first," Goodrich said. "That research needs patience and investment as the chip technology of the future will take decades to develop."