A study from the Yale School of the Environment's Center for Industrial Ecology found that the total mass of electronic waste (e-waste) generated by Americans has been on the decline since 2015. This has major implications for e-waste recycling laws and regulations that depend on mass to cultivate recycling goals.
Researchers found that the biggest contributor to this decline is the disappearance of cathode ray tubes (CRT) from TVs and computer monitors. CRTs were a large and bulky part of electronics and they were a considerable contributor to the mass of e-waste. Since 2011, CRT displays have been declining in the waste stream. This means that the parameters of t e-waste regulations may need to be rethought.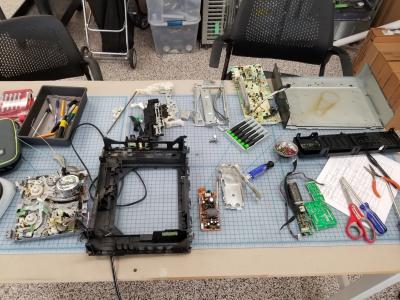 To amass the data necessary for their study, the authors used material flow analysis. Source: Yale School of the Environment
State laws for e-waste focus their targets on product mass. As the overall mass of e-waste declines, meeting these targets becomes difficult. The main goal of these regulations is to keep electronics with high levels of lead or mercury out of landfills. E-waste also has important elements that are not toxic to the environment and are valuable and could be recycled to create new electronics.
Current e-waste recycling system struggles to keep up with the changing nature of electronics. The number of electronic devices entering the waste stream is currently leveling off or slightly declining, thanks to convergence. As electronics evolve, the number of actions one device can do increases. For example, a few years ago customers needed three separate devices to play music, call people and navigate. Now all three of those actions can be done on one smartphone. This means there is less e-waste.
The team used material flow analysis to gather their data. This technique quantifies the resources going into and out of a system. Their study focused on 20 categories of digital devices, including computers, smartphones, digital cameras and audio visual equipment. The team disassembled dozens of products in lab to determine the content of various important elements and looked at previously published data.
In the U.S., e-waste recycling is regulated at the state level, and only half the states have e-waste recycling laws. Patchwork regulations, like in the U.S., make it difficult for companies to navigate how to make their products easy to recycle. A holistic federal approach would increase the overall capture of rare earth elements.
This study was published in the Journal of Industrial Ecology.