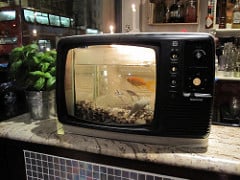 Source: sergejf / CC BY-SA 2.0We are so quick to update our phones and other devices — vying for the absolute latest in technology — that we fail to put much consideration into what happens to our old devices. Some of us stow away the old devices in junk drawers or in the deep recesses of far-away closets. And then there are those who simply throw the devices out without a thought in the world for where the items are destined.
And electronics companies are perpetuating the cycle. Consider the multiple iterations of the iPhone. Each time a new version comes out, we can expect that whether by design (cracked screen, swiping mechanism doesn't work, etc.) or desire, all of a sudden we need to update our devices. While we salivate over the latest phone or tablet, these companies are quick to satiate our appetites. And few of the major companies offer real options for what to do with our old devices.
As we prepare ourselves for the latest round of smartphone upgrades, consider a few of these reminders about hazardous electronic waste.
The United States is the global leader in e-waste. With nearly 20 million tons of e-waste accumulating each year worldwide, the U.S. is the largest contributor of e-waste, disposing of nearly 3.4 million tons worth of old devices, including cell phones, computer towers, tablets and televisions, just to name a few. These old devices are clogging up landfills all over the country, creating mountains of dangerous waste.
E-waste causes pollution, health issues: When we discard our old devices, we fail to realize what happens once they are set down in a landfill. Over time, the materials that went into making those devices start to wear and breakdown. Often, toxic ingredients are used to make those devices, for instance, lead, mercury, cadmium and chromium — and later seep into the ground and eventually find a way into our water supply and atmosphere, polluting drinking water and damaging ecosystems. Improperly disposing of electronics can threaten both the environment and our health.
Your e-waste recycling facilities aren't always "green." Recent research showed that many e-waste efforts are not what they seem. In recent research from watchdog group Basel Action Network, researchers donated old computers to recycling facilities advertising themselves as "green" or "environmentally-friendly." Outfitting the discarded electronics with tracking devices, researchers discovered that a third of the donated items turned up overseas where the guidelines for handling such devices are not so stringent. Consequently, those tasked with stripping the electronics for valuable materials will likely end up releasing cancer-causing chemicals into the atmosphere because they are unaware of the dangers involved with exposure to e-waste. For instance, breaking the fluorescent lamps of flat screen televisions will likely release mercury vapor (which can be a neurotoxin) into the atmosphere. Dismantling old printers may also have the same effect due to exposure from toner ink, which is likely a carcinogen linked to respiratory problems. Once discarded, others salvaging landfills in those countries with fewer regulations will also come into contact with the harmful chemicals.
Recycle and reuse. Japan recycles approximately 2 million tons of e-waste a year; when compared to the Unites States, which recycles just under 700,000 tons a year, it is fair to say the U.S. isn't doing its part. However, as efforts to recycle increase throughout the country, with some cities even banning e-waste curbside pickup entirely and amping up recycling efforts throughout, things are improving. Look for information about e-waste recycle events or centers in your neighborhood if you have items you no longer use, need or want. And, if you have items that still work well or require only minor repairs, consider donating them to be repaired and, eventually, reused (possibly by persons in low-income countries). The benefit to reuse is two-fold: first, you give a person access to the technology and equipment that they might otherwise not have been able to afford. Second, the repair process might help to create jobs for those low-income persons. Another benefit: valuable materials go in to creating these devices. Materials such as copper, silver and aluminum can be re-used again in lieu of mining for those resources.
Repurpose. Turn your electronic waste into clever décor. Some of the larger e-waste appliances no longer functioning could potentially be turned into works of art. Inexpensively turn your old, boxy television into an aquarium…or better yet a bar. Ideas for repurposing e-waste can be found all over the internet. Instead of clogging landfill, wouldn't you feel better about instead clogging your living room?
Resources
IFIXIT.Org—E-Waste is the Toxic Legacy of Our Digital Age
Motherboard—As Shocking Amount of E-Waste Recycling Is a Complete Sham
Mother Earth Living—3 Solutions to Electronic Waste
PBS Newshour—Where does America's e-waste end up? GPS tracker tells all
The Atlantic—The Global Cost of Electronic Waste
The Resource—E-Waste and the Importance of Electronics Recycling