E-waste has a snowball effect. The more electronics global consumers buy, the more they eventually throw away, and the more goods there are to take back, recycle and reuse.
However, the closed loop supply chain of source-make-take-back-reuse is far from perfect. You only have to look at the results of the recently released Countering WEEE Illegal Trade Summary Report (CWIT) to see that.
The two-year, European Union-funded security research project, headed up by an consortium involving Compliance & Risks Ltd., Cross-border Research Association, INTERPOL, United Nations Interregional Crime and Justice Research Institute, United Nations University, WEEE Forum, and Zanasi & Partners, found that only 35%, about 3.3 million tons, of all European e-waste discarded in 2012 ended up in the officially reported amounts of collection and recycling systems. The other 65%, or 6.15 million tons was either: exported (1.5 million tons); recycled under non-compliant conditions in Europe (3.15 million tons); scavenged for valuable parts (750,000 tons), or thrown in waste bins (750,000 tons).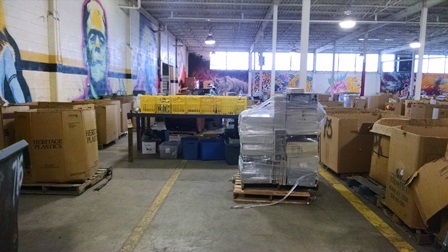 Inside the Smart Metals Recycling facility. Image Courtesy of Smart Metals Recycling.
What is more is that about 4.65 million tons of e-waste has been wrongfully mismanaged or illegally traded within Europe itself, according to the report. The widespread scavenging of both products and components along with the theft of valuable components (circuit boards and precious metals from e-waste, for instance), has resulted in a loss of materials and resources valued from €800 million to €1.7 billion (US $877 million to $1.86 billion), according to the report.
Meanwhile in the U.S., the proposed Responsible Electronics Recycling Act of 2013 (the House of Representatives version H.R. 2791 and Senate's S. 2090), which was aimed to prohibit the exportation of some electronics "whose improper disposal may create environmental, health, or national security risks" and promote the U.S. recycling industry's efforts, seems to have died in congressional committees.
Directives, such as Europe's WEEE (Waste Electrical and Electronic Equipment) and RoHS (Restriction of Hazardous Substances) and the U.S. Dodd-Frank ruling, have increased awareness about recycling and recovery goals for all types of electrical goods, restricted the use of certain hazardous substances in electrical and electronic equipment, and introduced conflict minerals traceability methods that could be leveraged to track many other supply chain materials. However, component and device recycling still has a way to go before all materials are properly salvaged and recycled, reused in new products, and become viable and cost-effective across-the-board alternatives to raw minerals extraction from virgin or existing mines.
Where's the disconnect?
Some say the e-waste disconnect lies with consumers who may not know how or where to recycle their devices.
"WEEE/ROHS [and] conflict minerals tracing was implemented seamlessly throughout the world. The entire supply chain was involved. Nearly every PCB line has full electronic SFC traceability systems. It is easy to track components back to the PCBA S/N," noted Dan Panzica, IHS' senior principal analyst for outsourced manufacturing and services. "Recycling and reclamation is not a big deal. The industry can handle the recycling and repair. The key is getting the people to take their electronics to the recyclers."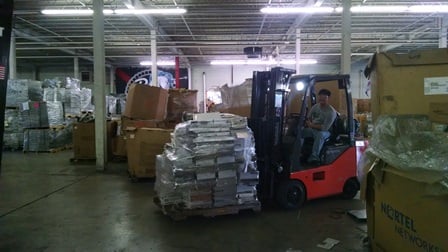 Companies comply with international regulations for recycling electronics. Image Courtesy of Smart Metals Recycling.
Also, while the electronics industry has adjusted its operations and practices to comply with international regulations and implements environmental friendly practices to protect its brand reputation, some parts of the supply chain don't lend themselves to reuse.
"When looking at a chip manufacturing operation, there is very little reuse. Reuse within fabs is very difficult. The real reuse in manufacturing is the alignment of process technologies in order to batch process at specific manufacturing steps. The key here is cost, so companies are always looking at ways to use less chemicals in order to speed up the process," says Len Jelinek, senior director of semiconductor manufacturing at IHS. He added that single wafer processing, which more manufacturers are moving towards, is consuming less chemicals and maintaining higher purity.
There are various legal and perception hurdles to get over as well. Although many people involved in the electronics supply chain want to say that they are taking products back and reusing them in new products they deliver to the market, complying with current recycling laws makes that a difficult goal to achieve in a significant way. And, also, while they say they do not want their products ending up in makeshift, unregulated landfills in developing countries, polluting those regions or exposing people to unnecessary harm, there is no universal, global "demanufacturing" solution for handling end-of-life electronics products that are made for, distributed in and consumed by a world market.
"Demanufacturing and taking products apart are full-time jobs that are as complex as manufacturing products," says Shelly Li, co-founder and president of North Carolina-based Smart Metals Recycling. "Everyone in the electronics supply chain wants to say that they take-back their products, recycle the devices and reuse components in new products they bring back to the market. However, recycling compliance laws, at least in the United States, don't allow for that, and they make it difficult to embody the full circle, closed loop supply chain."
"We're told that export is bad, and that we're polluting developing countries. But because some people are doing this wrong, doesn't mean the whole industry is," she says, adding that there are honest ways to handle and track recycled goods, be socially and environmentally sustainable, and also turn a profit. "We have to embrace globalization, and put in controls to ensure that this part of the supply chain can be more profitable, more transparent and further the mission of being sustainable. If we take more interest in this subset of the supply chain and keep everyone accountable, we can move the move needle. Creative solutions exist and will become more widespread as long as there is communication, dialog and transparency."
Moving the needle
Shifting perspectives among electronics executives, regulators, consumers and locals living in areas where e-waste is growing to fast to manage will come when there is a strong enough business model that proves the case. Besides managing through competing priorities (Is the focus on supply chain optimization or is on creating a sustainable recycling and reuse plan, for instance?), closing the supply chain loop means recasting the solution.
"The electronics industry is on our side, and we can use the strength of market demand as a main driver to doing more recycling and reuse," says Joost de Kluijver, founder and director of operations at Closing the Loop, a Netherlands-based organization that helps find secondary markets in Africa and Asia for reused phones and collect collect end-of-life scrap phones for recycling in Europe. "From a product collection standpoint, we have to find a way of using market forces for good. The phone collectors who work in Africa, for example, are not focused on cleaning up the world. They're interested in turning waste into income."
"Showing everything that's wrong with the world doesn't motivate changes in behavior. We want to show people what's being done right and help others understand what happens when we can recycle more or reuse e-waste," he says. "We work with local people and show them how they can collect scrap phones and turn them into additional income streams. If we empower local people, then it becomes a local solution that could eventually be supported by a framework of international rules and regulations and environmental sustainability. From there, we can go to governments and companies and ask them how these efforts align with goals they have."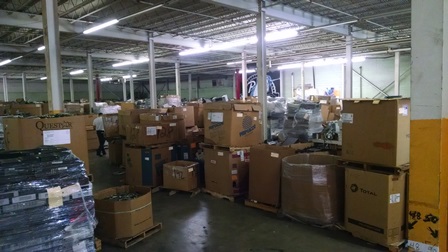 Demanufacturing and taking products apart are full-time jobs. Image Courtesy of Smart Metals Recycling.
One of the big issue companies face is how to balance current supply chain commitments and partnerships with a design for reuse strategy. Fairphone, a startup social enterprise aiming to builda movement for fairer electronics, is trying its hand at this. The company focuses on smartphone longevity and repairability to extend the phone's usable life, and is creating a circular economy by integrating reused and safely recycled components.
For its first phone, which raised more than €7 million euros via a crowdsourcing campaign and was launched at the end of 2013, the company licensed the phone design from its production partner and made some upgrades to the design that would make it a "fairer" phone, says Bibi Bleekemolen, who heads up impact and innovation at Fairphone,
Its second iteration, the Fairphone 2, due out in November, goes even further. This time the company brought the design work back in-house, which allowed Fairphone to have greater control over the supply chain partners it chose to work with and better integrate reuse and reparability features into more parts and stages of the product development and manufacturing cycle, she says.
"We want each generation of phones to be fairer than the one before," Bleekemolen says. "Our phones are modular and a user can easily replace individual components, which expandsthe life of the product. We're still a small player within the mobile phone industry, but it's about creating a shared value system. We now have suppliers reaching out to us and asking to work with us."
One of Fairphone's critical suppliers–AT&S, a PCB supplier based in Austria–actively reuses minerals and precious metals such as gold, copper and tin in its PCBs. As a result the Fairphone 2 will contain 35% recycled copper, Bleekemolen says.
"We're already looking for ways to use recycled copper and now talking about how to integrate gold from fair-trade certified mines in South America, and use more responsibly-sourced gold," she says. "Together with suppliers we can uncover and explore other options for creating sustainable products."